Creaform HandySCAN 3D | BLACK Series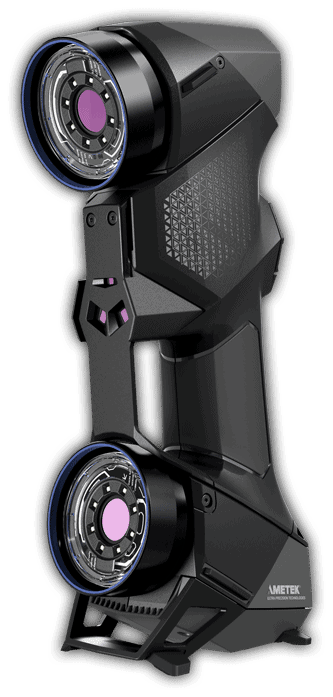 The best in portability, accuracy, and speed
The HandySCAN 3D™ product line-up is considered the gold-standard in metrology-grade 3D scanning options on the market. The BLACK Series is the top-of-the-line, and offers unrivaled accuracy, precision, and versatility.
This product is perfect for a wide range of applications — including design experts, metrology professionals, and large-scale manufacturing facilities. Even our engineering team at CAD/CAM Services uses the BLACK Series when we want perfect results.
This patented handheld 3D scanner is very pricy, but it delivers more than you would expect. It has incredible accuracy, high repeatability, and great precision, even on complicated surfaces in difficult environments.
This scanner is the best way to get perfect 3D models of physical parts within your facility.
Technical Specifications
A brief look at the technical specifications of the HandySCAN, to understand how it can help with your metrology-grade measurement applications.
Accuracy

As low as 0.025 mm (0.0009 in)

Volumetric accuracy
0.020 mm + 0.040 mm/m


(0.0008 in + 0.0005 in/ft)

Measurement resolution

Measurement rate

Part size range (recommended)

Accuracy of 0.025 mm
ISO
17025

Large
scanning area

Scan-to-mesh
in seconds

Worldwide
support

Patented
technology
Simplicity and Versatility
The BLACK series offers a user-friendly interface, ergonomic design, and an ability to quickly scan any part. This 3D scanner has a short learning curve, allowing anyone on your team to pick it up and start scanning your parts in real-time.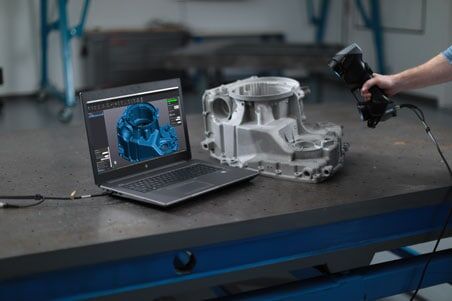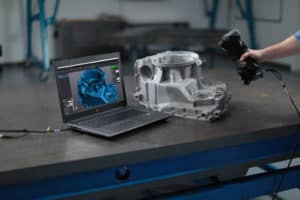 Simple user interface and real‑time mesh visualization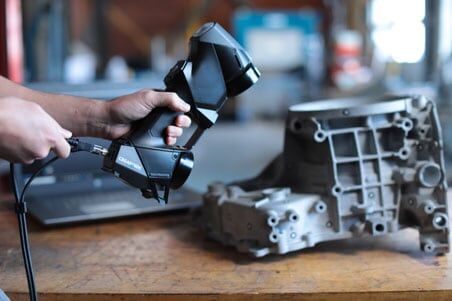 Plug and play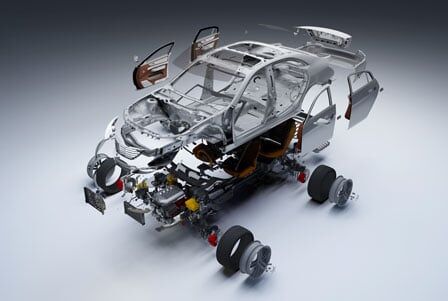 One device for all shapes and sizes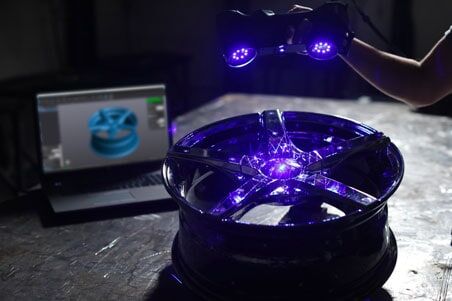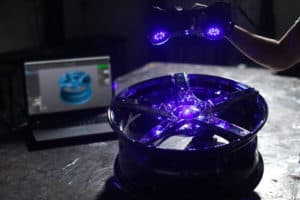 Masters complex and difficult surfaces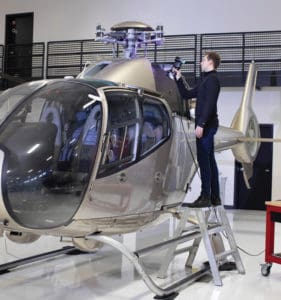 Highly Portable
As a handheld 3D scanner, this is a stand-alone device that doesn't need any connection, an external tracking camera, or even a tripod to work.
Lightweight. This 3D scanner only weighs 0.94kg (2.1lbs)
Fits in a suitcase. Take your tools with you on the road, the BLACK series of HandySCAN easily fits into a suitcase so you can take this 3D scanner anywhere you need to go.
No external cameras needed. Other 3D scanners need a tracking camera or set of sensors in order to work. The BLACK series works on its own, making it even more portable.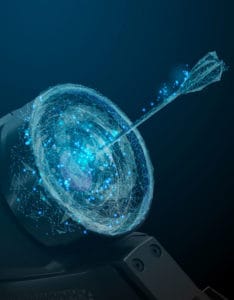 Metrology-Grade 3D Measurements
The HandySCAN 3D BLACK series offers the best resolution, quality, and accuracy on the market when it comes to hand scanners. You can achieve metrology-grade 3D scans out of the box.
Accuracy. As low as 0.025mm (0.0009in)
Reliability testing. Each scanner goes through extensive acceptance testing, including ISO 17025 accreditation and VDI/VDE 2634 part 3 standardization.
Capture the fine details. This hand-scanner will pick up each minute detail of your part, even the finest details. This ensures each 3D model has all of the information needed.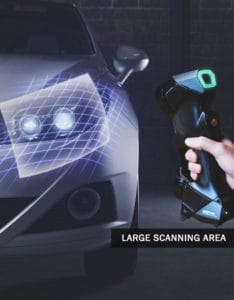 A Faster Scan
Creaform created this scanner to allow users to very quickly scan without giving up any accuracy. You'll notice how quickly this tool scans after its first use.
High measurement rate. The HandySCAN BLACK series can scan up to 1.3 million measurements a second.
Large scanning area. The BLACK series uses multiple laser crosses and the tool creates an automatic mesh generation. Couple this fact with the fast measurement rate, and you're able to scan large areas over short periods of time.
Very fast setup. Out of the box, this tool can start scanning in less than 2 minutes. Being able to start faster means finishing faster, expediting the full engineering process.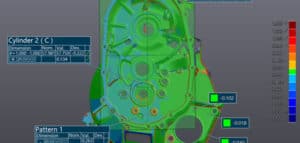 Quality Control
First article inspection (FAI)
Part-to-CAD inspection
Supplier quality inspection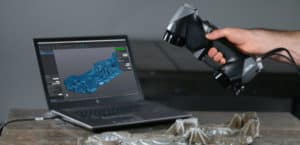 Replacement/Recycling
Reverse engineering for developing replacement / Restoration parts
Planning of complex assemblies disassembly/Dismantling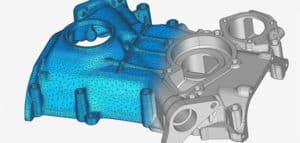 CAD Design
3D scan-to-CAD
Reverse engineering (extracting design-intent)
Packaging design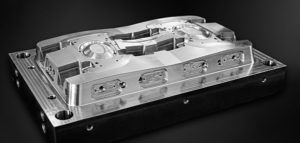 Tooling design
Reverse engineering of dyes, molds, fixtures, jigs and patterns
Update of CAD file to reflect as-built tooling measurements
Tooling validation/Inspection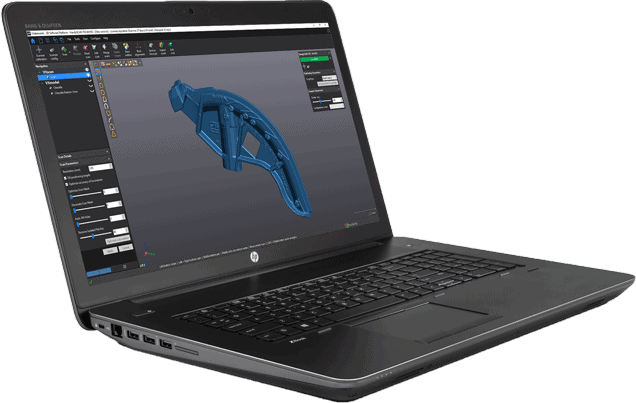 VXelements™
The HandySCAN BLACK also uses VXelements as its standard software. This program is versatile enough to power our entire suite of 3D scanning and measurement products. It combines all the essential tools you need — from intuitive CAD software to data acquisition — in a simple, user-friendly interface.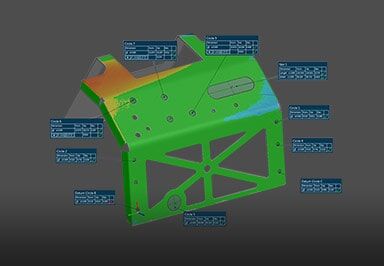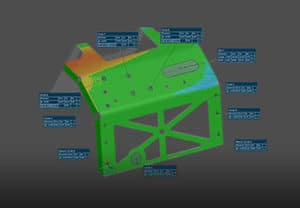 VXinspect™
Dimensional inspection software module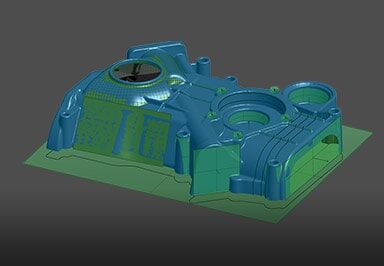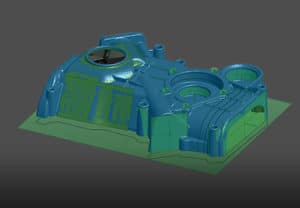 VXmodel™
Scan-to-CAD software module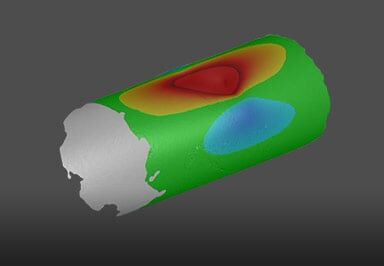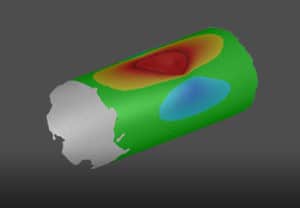 Pipecheck™
NDT pipeline integrity assessment software