Professional CAD & CAE Engineering and Simulation Services
With our CAD engineering services, CAD / CAM services can help you in the creation and prototyping of your custom design with modern 3D cad software.
Our Computer-Aided Engineering – CAE Services
You can trust us with each step of the development and prototyping process. Our computer-aided engineering (CAE) services include:
Concept development

Mechanical design

Engineering design

2D and 3D computer-aided design and drafting

3D printing

and much more
If you want to create something new, but do not know how, we can help you.
If you have something you want to improve — contact us and we will develop new designs according to your needs.
CAE Applications
We provide CAE services for various tasks and industrial applications.
Modern 3D CAE software allows us to perform various simulations and tests with no production needed. This helps drastically reduce production and development costs, saving large amounts of time and greatly speeding up development.
Cutting-edge development process relies on solid models and real-life tests only for the latest development phases. Fabrication is required only to prove the simulation results. During the development stages, it is much more cost-effective to use virtual simulations than finding a problem after the fact.
CAE Analysis
Our company can help you with motion analysis as well as FEA. Motion analysis can show how all parts of the assembly will behave during desired operations. This can help understand ergonomics and the basic nuances of motion properties of your design.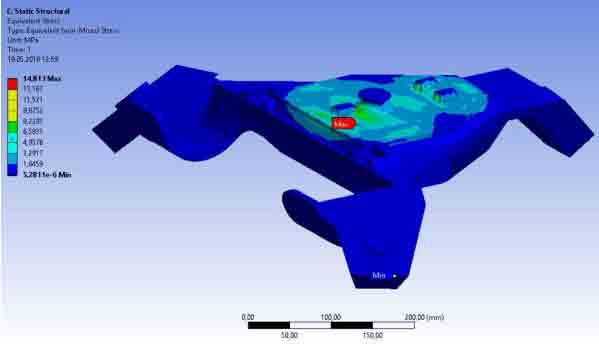 Static Structural analysis[/caption]
FEA or Finite Element Analysis helps to understand more complicated processes, like stress distributions, heat, and elastic issues. This type of analysis involves creating a mesh of finite elements throughout researched geometry. After that, a number of calculations are performed for each of the finite elements.
This can take a lot of time even on powerful PCs, rendering one of your workplaces for large time periods. So it is often more cost-effective to outsource these tasks so your workflow will be left with no interruptions.
CAE Simulations
What can CAE simulations help you with?
Material selection:

With a large variety of material suppliers available on the market, it is important to estimate the behavior of your product with various materials. This can increase product lifetime or decrease production costs

Geometry optimization:

This can help understand how your design will interact with surrounding mediums (aerodynamics and liquid dynamics). It can also help you in finding stress concentrating points. Our specialists can make suggestions and corrections which will help to evenly distribute stresses throughout your designs
All you need is to provide us with geometry, material properties, and testing parameters. If you are not sure what is needed you can contact us. Our mechanical engineers with years of experience will work with you directly.
CAE Capabilities
Modern engineering software packages (like Nastran, Fibersim, Ansys, Abaqus, etc.) empower engineers with finding solutions to non-trivial tasks in many manufacturing fields. With our help, it is possible to:
create and accurately simulate fiber reinforced plastic parts

perform fluid dynamics analysis

perform aerodynamics analysis

create digital mockups

perform static structural analysis with linear and non-linear behavior

and much much more
Ensure the highest quality of your designs with us
3D Modeling FAQ
What is the minimum price for your 3D modeling services?
We have a minimum order fee $150.
How do you check your models?
We create 2D drawings from our 3D models for QC purposes. We follow aerospace standards and deliver ±.005" accuracy models for all projects. All of our QC is done by a different person than the designer. On Catia work, we often use Q-Checker for Airbus.
What do you need to give me accurate pricing?
First of all, we need to know the target CAD system and whether you have an existing template, or set of CAD standards for this project.
The main question is the overall complexity. As each part and assembly consists of different features and elements the best way is to provide us with an example. Again, a picture is worth a thousand words.
If you already have a model and need us to improve it or update it in any way we need to know which dimensions and features are critical and which can be modified to achieve your desired result. Even a before and after example works very well. We started with x, and got to this CAD file.
We can also offer you better options if you provide us with the purpose of your project (demonstration, 3D printing, FEA Simulation, CNC manufacturing, etc.). This helps us better refine the task.
How do you bill 3D CAD services tasks?
Per hour. Hourly rate depends on what CAD software used and typically starts at $75 per hour. In general, to make this process safer for you, we often provide you a fixed not to exceed the cost as well. That way, you are protected from an open-ended PO. However, the reality is our fees are based on time. In addition, services in say Catia or NX are more expensive than say Solidworks. Or, simulation services are commonly done by real engineers.
Finite Element Analysis FAQ
What do you need to make an accurate simulation?
The main elements in FEA are finite elements. They create a mesh around the model geometry so we need an appropriate model to run the simulation.
Some types of analyses demand physical properties of materials used in the assembly. Most of the CAE software databases contain generic information about popular materials. Providing us with the information provided by your manufacturer or material supplier can increase the accuracy of our simulations.
What is the purpose of FEA?
It depends on the analysis type. In most cases, FEA helps to predict how the part or the whole assembly will behave in certain circumstances.
The static structural analysis helps to find weak spots and stress concentrators and change model geometry before manufacturing. This can save a lot of money and production time and reduce the amount of real-life testing.
You can also predict model behavior by calculating it's aero- and hydrodynamics parameters.
Reverse Engineering FAQ
What is the quality of reverse-engineered parts?
We can provide ±.005" aerospace quality for every model. CT scanned parts can have even higher precision up to ±.001".
What do you guys need to provide me with accurate pricing?
We need to know whether you need your parts to be scanned by us. Or many times we can work with 3D scans provided by third-party companies. The quality of the scan is everything in our business. Anyway, we strongly advise you to use us for both the scanning and the CAD conversion aspects. That way, we can control the quality. Sometimes we receive poor quality scans which make it impossible to create truly Cad Perfect™ models for you. By all means, send us a couple of even cell phone photos, and the rough size of the object. Most of the time, this will provide us enough information to provide a real bid.
The price depends on the part complexity, size, as well as the target file parametres. We need to know whether you need full parametric models, and your desired accuracy. If you tell us the purpose of reverse-engineered models, we can often provide you with possible solutions. The target CAD software may change the price as well. This includes sophisticated Workstation add-on products such as Composites, Catia electrical wiring, mold design, and others.
What is the average price for Reverse Engineering?
It all depends on the part's complexity, size and structure.