Putting together 2D manufacturing drawings can be a tough undertaking. Missing just one dimension can make your part impossible to make, leading to confusion when the drawing gets to the machine shop. If you want the best results, then you should consider outsourcing.
In this guide, our experts will describe how outsourcing your SolidWorks CAD drafting can save you time and money. We'll provide specific examples so you really understand how great outsourcing is.
What Is Outsourced SolidWorks CAD Drafting?
By definition, CAD drafting is a 2D drawing that's typically used for manufacturing a part. You can start with a 3D model in SolidWorks, then create a 2D drafting file that keeps all the dimensions and features of the original model.
You can spot a CAD drafting file because it will show a series of "flat" images, that represent different views of the part. A machinist can see each of these views and piece together the 3D part in their mind's eye.
Now, what is the outsourcing part of this equation? Outsourcing is when you pay an outside company to perform the CAD work for you. For instance, you might hire our team at CAD/CAM Services to create a new bracket with manufacturing-ready drafting files. You would pay us a per-project or hourly rate, we would do all the required SolidWorks drafting, then we'd send you every file we created.
The difference is that our team is not getting hired directly through your company, and you're not paying us salaries. Instead, we'll work on a contractual basis, only providing engineering work that you sign off on first.
Make Sure You Pick the Right Outsourced Company
There are a lot of outsourcing CAD companies on the market, today. Sadly, a lot of them are looking to take advantage of companies just like yours. They'll overcharge for their services, provide inferior CAD drafting files on SolidWorks, and won't go through any quality checks.
With that said, it's very important that you pick the right outsourced company to work on your project. We highly suggest choosing CAD/CAM Services, since we've made millions of drawings over our decades in business, and we never overcharge.
How Outsourcing SolidWorks CAD Drafting Saves You Time and Money
You're looking to save time and money, and we know that this is possible by outsourcing your SolidWorks CAD drafting projects. Here are some specific ways that outsourcing will save your engineering team time and money.
Each Part Is Finished Sooner
When you outsource through CAD/CAM Services, every part will be finished sooner. Our engineers work on shifts around the clock, so we have 24 hours of productivity every day. With more time dedicated to your project, we can complete the same part three times faster than your in-house 8-hour employee can.
Plus, we have over 100 engineers and draftsmen on our team. We can assign a dozen engineers to your big project to get even faster results.
With faster delivery, you can commit to a more aggressive project timeline. Also, it saves you a ton of time on every drawing.
Projects Cost Less to Complete
Not only can outsourcing save you time, but it will also cost you less to complete each project. Since we charge on an hourly basis and we finish each project quicker, you'll pay much less in engineering time.
The other thing to mention is that our hourly rates are affordable, especially compared to other outsourcing companies. We can afford to cut our prices because we're so confident in our abilities. Plus, we have a massive team so we don't need to inflate our prices to stay profitable.
Compare an outsourced engineer to the cost of your in-house engineers. With our team, you aren't paying for days off, sick time, medical benefits, or retirement. You're strictly paying for engineering work.
For many companies, paying salaried engineers results in overpaying for engineering work. It's definitely still important to have in-house engineers for a number of reasons, but it helps to save some money and time by outsourcing your SolidWorks drafting projects.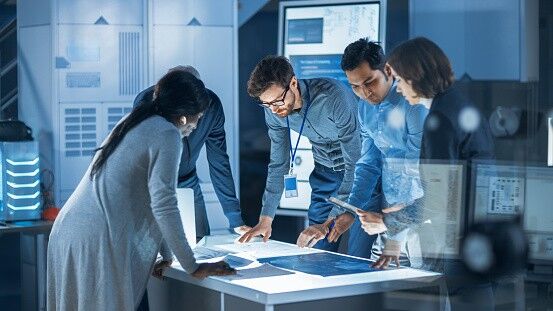 A peer-review process done by expert outsourced engineers is a quick way to save time on your end.
You Can Skip Most Quality Checks
If you put together SolidWorks drafting drawings on your own, you'll have to go through a few different quality checks. You'll want to peer-review the drawing with other drawings, check for minor issues, and ensure all of the templates are correct.
The process of quality checking your work takes a lot of added time that you can't rush through. If you skip the quality check and miss a mistake, then you'll waste time and money while you try to manufacture the part.
When you outsource through CAD/CAM Services, you can skip most of these checks. Our team goes through a number of quality checks before we send any files to you. We peer-review each drawing, look for inconsistencies, and optimize each design for manufacturing. The result? You only need to quickly glance at the drafting file before you send it to your machine shop of choice.
Spend Less Time and Money on Manufacturing
All of our engineers and designers are trained in designing for manufacturing (DFM). Using DFM best practices is a surefire way to cut down on machining costs. This is possible because we understand the limitations of CNC milling machines or turning machines. We know how to make a part as simple to manufacture as possible.
For instance, we use nominal dimensions whenever possible. This can save hours on the milling machine for just a single part, saving you a ton of money.
You can expect to see lower quotes from machine shops when you outsource your SolidWorks CAD drafting design. Plus, the shop will be able to send the finished part to you even sooner, thanks to our added efforts.
Conclusion
Outsourcing your SolidWorks CAD drafting work can save time and money in a number of different ways. If you want the best results, you should reach out to our team at CAD/CAM Services. We've created millions of drawings over our decades in business, and we have a dedicated staff that will exceed your expectations Get a free quote today.
This article was last Updated on September 6, 2023