Outsourcing a CAD project can feel daunting — where do you even start? You might spend a week trying to figure out the first step, and we're here to help you avoid that.
We've been in the CAD outsourcing industry for decades, and we're here to teach you the easiest way to outsource your CAD drawings. This guide explains the process and tells you what information you'll need on your end.
What Is an Outsourced CAD Drawing?
An outsourced CAD drawing is when you pay an outside company to handle your 2D or 3D engineering work. Companies will typically outsource a CAD drawing if they don't have enough manpower or time to put together the drawing.
When you outsource, you pay a company on a per-drawing or per-project basis, and the scope of work is agreed upon before work even starts.
With a high-quality outsourced company, you'll agree on the project and pricing, then a few days later you'll get a stack of professionally-done CAD drawings.
What You Need to Outsource Your CAD Work
In order to start outsourcing your CAD work, you don't need a lot. When you choose CAD/CAM Services, we can fulfil your order in as little as a napkin sketch of what you want. However, providing more information typically leads to faster turnarounds and lower quotes. Still, you don't need a lot of information to get started.
If you've never outsourced a CAD drawing, that's not a problem — we'll walk you through the process over the phone and tell you what to expect. In the meantime, try to come up with the following information:
Roughly how many drawings will you need

? This will help provide an accurate quote and turnaround time.

When is your need-by date

? This is the latest possible date you can accept the outsourced CAD drawings. It tells the outsourced company how many engineers they should assign to your project. If you don't have a strict date, then you can just say "ASAP".

What CAD program do you use

? Our team always draws and delivers files in the same CAD program that your team uses. This ensures that you can use every file we send without a stressful conversion process.

Do you have reference drawings or templates you'd like to match

? In most cases, our clients have specific borders or drawing conventions that all of their in-house

2D CAD drawings use

. You can send us over these templates and we'll match the style and format. Doing this means our drawings will be as uniform as your drawings.

Do you have any initial concepts, design constraints, or requirements

? For new designs, any additional insight will speed up the process. Let our team know any additional information you have about the part. This helps us deliver a concept that works on the first try.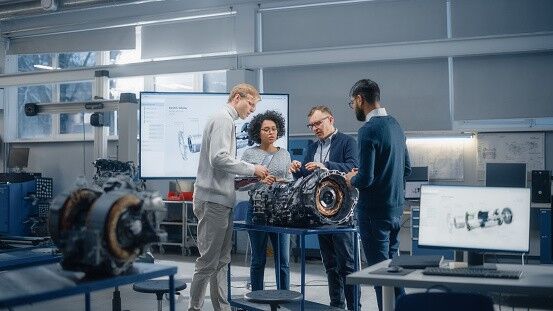 Outsource CAD engineers learn more about a reverse engineering project from an aerospace client.
Reasons to Outsource CAD Drawings
People outsource their CAD drawings for a wide range of reasons. In our experience, the biggest reasons to outsource CAD drawings are if you want to save time, avoid headaches, and cut down on your engineering costs.
While we handle the CAD work, your team of engineers can work on innovating the next big thing. In other words, your team can find other ways to make more money for your company while we produce CAD drawings.
In general, outsourcing CAD work is a great way to save time and money on every project. We have a massive team of engineers that work around the clock, ensuring fast delivery on every project. We also have a ton of expertise, since we design and draw parts day in and day out.
The Easiest Way to Outsource Your CAD Drawings
It might seem like an obvious answer now — the easiest way to outsource your CAD drawings is through CAD/CAM Services. We've made millions of outsourced, CAD Perfect drawings over our decades in business.
We have the expertise and workforce to handle your toughest projects. Plus, you can enjoy drawing delivery in as little as 24 hours. We use the same CAD software that you use, and we'll apply any formats or title blocks that you already use.
The bottom line? Outsourcing to CAD/CAM Services makes the whole process simple. Plus, we'll save you time and money during each project.
Conclusion
You just learned how outsourcing to CAD/CAM Services is the easiest way to outsource your CAD drawings. We have a huge staff of highly trained engineers who are here to help you. We've helped countless companies just like yours over the years, and we'll happily help you, too. Get a free quote today.
This article was last Updated on September 5, 2023