In the world of engineering, it's always nice to have a little help. Your team probably has a bunch of projects you're trying to juggle, and there simply aren't enough hours in the work week. For many, the solution to these problems is outsourcing.
In this guide, you'll learn why you should outsource your 3D CAD modeling work. We'll provide a number of specific reasons, and we'll show you how you can get started today.
What Is 3D CAD Modeling?
3D CAD modeling is when you use a computer to design virtual, scaled models of real-world parts. 3D CAD modeling is incredibly popular in most companies, and it's largely used to run stress tests, non-destructive simulations, and check for the fit of parts before making a physical prototype.
A 3D model is also great for making 2D manufacturing drawings, since most CAD programs streamline the 2D drawing generation once you have a 3D model.
How Does Outsourcing Work?
Outsourcing entails paying an outside company to perform CAD tasks for you. In this case, you would pay a company to do all of your 3D CAD modeling, and you'll receive all of the files that were created.
Outsourced engineers are typically paid on an hourly or per-project basis, and there are no long-term commitments. You just pay for the work you receive, and you can stop the partnership whenever you'd like.
A Great 3D CAD Model Can Save You Time and Money
The sole reason to have high-quality 3D CAD models is to save you time and money. Better 3D models result in easier fabrication, better fitment tests, more realistic simulation results, and renders that look identical to how the part would look in real life.
An experienced engineer will ensure the 3D CAD model is dimensionally correct and has all the right material properties.
Why You Should Outsource Your 3D CAD Modeling
At CAD/CAM Services, we've created countless 3D CAD models for clients over the years. So, why do so many people outsource their 3D CAD modeling projects? Here are some of the top reasons:
Get Faster Turnarounds
An outsourced team can almost always commit to faster turnarounds than your in-house engineers can provide. One reason why this is possible is because our team works 24/7 on staggered shifts, allowing us to constantly progress your parts.
Another reason is because our team of engineers is likely larger than yours, and our assigned personnel is focused only on your project. We have over 100 engineers, and our staff focuses on one project at a time. This means that there are no distractions and no lack of manpower.
In a lot of cases, we can deliver completed 3D CAD files in as little as 24 hours.
Rely on Industry Experts
An outsourced engineering team is built for a single job: to provide expert-level CAD files for your company. How can we achieve that? By hiring industry experts, of course.
When you outsource your 3D CAD modeling work, you can rely on our team of industry experts that have in-depth knowledge working on projects just like yours. Whether you need an industrial SME, an aerospace expert, or someone with 20 years of working in SolidWorks, you'll find that at CAD/CAM Services.
Never Overpay for Engineering Work
Even though we offer faster turnarounds and industry experts, you'll never overpay when you outsource your CAD work with CAD/CAM Services. The problem with paying your in-house engineers to tackle 3D modeling work is that you're also paying for their days off, sick time, and medical benefits. These small costs can really add up over time.
With outsourcing the work, you're only paying for the engineering work you receive. If one of our engineers takes a day off, you're not paying them.
Choosing to outsource your 3D CAD modeling means that you can save money on every part you receive.
Free Up Your In-House Engineers
While our outsourced engineering team handles your 3D CAD modeling, your in-house engineers can work on other projects. Maybe there's something that's been on the back burner for a while, or you have a new product idea that you could never find time to get started.
When you outsource, you suddenly have more time to focus on revenue-generating tasks.
Some people bring in a team of outsourced engineers just to relieve some of the pressure put on their in-house engineers. Having too much work and no rest between projects can be really tolling for any engineer, so we're happy to step in and handle your 3D CAD modeling.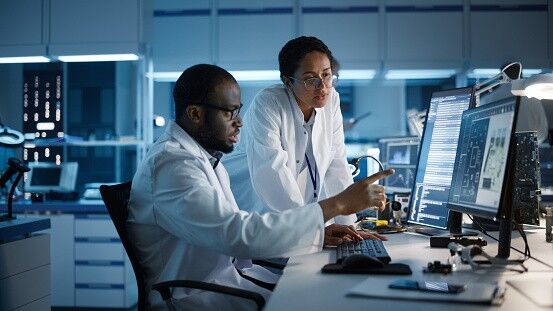 A pair of outsourced engineers work on a complicated building overhaul for an aerospace client.
Take on Bigger Projects
Another benefit of outsourcing your 3D CAD modeling is that you can handle much larger projects. Through outsourcing, you can grow your engineering team by a lot, giving you the manpower you need to take on massive building redesigns or process overhauls.
The best part? You don't need to pay full-time salaries or benefits for any of the outsourced engineers. You're effectively growing your staff at a fraction of the cost.
Conclusion
As we just covered, outsourcing your 3D CAD modeling is a great way to handle larger projects, free up your in-house engineers, speed up every project timeline, and save money on every 3D model. For the best results, you can trust CAD/CAM Services. We've delivered millions of CAD parts during our decades in business, and we will happily help your team as well. Get a free quote today.
This article was last Updated on July 23, 2023