If you have a single aerospace Mylar drawing, you already know its limitations. These hand-drawn engineering drawings are so hard to use, impossible to update, and even harder to find. It's even tougher for old companies that have a backroom full of Mylar drawings. What are you supposed to do? Many aerospace companies are deciding to convert to CATIA files.
In this guide, we'll teach you how to pros convert aerospace Mylar drawings into functional 3D CATIA files. We'll teach you everything you need to know, and we'll give you a tip to save time and money during each conversion.
What Is an Aerospace Mylar Drawing
Back in the day, engineers would do their drawing by hand on a large sheet of paper or Mylar — this was way before the days of CAD, and it was the only option. We've found that a lot of older companies have a ton of Mylar drawings, usually stuffed in a backroom somewhere with no organization.
We've worked with companies like Boeing that had very old Mylar drawings of their aircraft. We helped these types of companies convert from aerospace Mylar drawings into 3D CATIA files.
CATIA Is a Great Choice
CATIA is one of the best 3D CAD programs on the market. It's harder to use than programs like SolidWorks and Inventor, but it has a ton of functionality. Namely, it's the best option for surface modeling — a style of designing that creates highly intricate parts with sophisticated surfaces (like the surfaces of an aircraft).
For that reason, we always suggest that our aerospace clients try out CATIA.
Why You Need to Convert Your Aerospace Mylar Drawings to CATIA
We mentioned that a lot of people use our services at CAD/CAM Services to convert their aerospace Mylar drawings into CATIA files, but why? There are a few very important reasons why you should do this conversion.
Protect Your Legacy Designs
The biggest reason to convert is to keep your legacy drawings safe. We've worked with companies that had a single drawing from decades ago that was still used to manufacture their flagship product. What happens if this drawing gets water damaged, burnt in a fire, stolen, or misplaced? T
his company would lose its only record, and it wouldn't be able to make new parts until serious reverse engineering was done. This is a nightmare.
To avoid this massive issue, you can simply convert your parts to a 3D CAD file. These files can be backed up and saved in multiple places, making it basically impossible to lose the information.
Much Easier to Find and Organize Drawings
You can also store these digital CATIA files in any way you'd like: store them based on work orders, customers, drawing types, category of the design, or year the drawing was made. Any way you'd like to organize your CATIA drawings, you can.
This is the beauty of digital files. It also makes it a lot easier to find and pull up the right drawing. How many hours a week do you waste going through old Mylar drawings before you find the right one?
The same process can be done in a few seconds when you're looking for a CATIA file. CATIA Files are Easier to Share and Collaborate on
Not only are they easier to find, but CATIA drawings are a lot easier to share with other teams. Multiple people can have the same file open at the same time, which opens the door for further collaboration on files.
Get Better Accuracy and Precision with CATIA Files
CATIA files can be incredibly precise, as long as you create them correctly. This allows a machine shop to open a CATIA file and get a ton of information about the part they need to make. The same can't be said about aerospace Mylar drawings, regardless of how skilled the original draftsman was.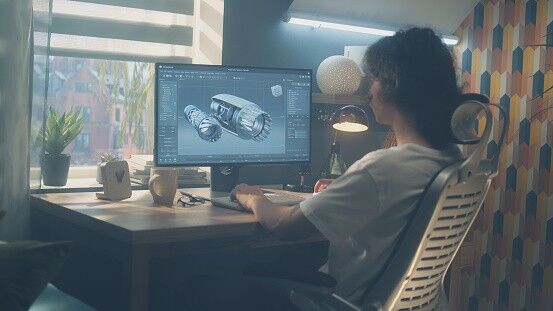 Update the Design and Create 3D Models
You can't change your Mylar drawings at all without risking damage to the sheet. This seriously stifles your ability to grow and create new iterations of your parts. With CATIA, adjusting a drawing and saving a new revision can be done in a matter of seconds with no risk of ruining the original design.
In addition, you can create full 3D models of your parts. This opens the door for non-destructive simulated testing, fitment checks, design optimization, and tolerance analysis without any physical parts being made.
How the Pros Convert Aerospace Mylar Drawings to CATIA
We've been creating 2D and 3D CAD files for decades, so we know a ton about this space. Here's how our professional team at CAD/CAM Services converts aerospace Mylar drawings into 3D CATIA files. Follow along if you want to do this conversion on your own.
Start with a Raster Scan
You can't do anything before you get a nice 2D scan of your Mylar drawing. Large-format drawings are really tough to deal with, and you'll run out of desk space during this conversion process. It's just too bulky and inconvenient to reliably make the conversion.
Instead, make a 2D scan and transfer it to your computer. It will show up as a raster scan, meaning that the image will be a series of pixels with no vectors. CAD needs vector files in order to save line information or create 3D models — still, a raster is the best way to get started.
Digitize the Drawing into a Vector File from Scratch
With the raster image open on one monitor, use your main monitor to open CATIA and start drawing the file from scratch. There's no safe and reliable way to automatically convert a raster image to a vector file, it has to be done by hand.
This means sketching the Mylar drawing on your CATIA program free hand. Use the correct dimensions and measurements to ensure the part is correct. Any mistakes during this process could yield an aerospace model that doesn't match the original Mylar drawing.
Triple-Check the Dimensions then Make the File 3D
Now you should go through a full quality check on your CATIA drawing. Go through and triple-check every dimension. Any mistakes you make might be too minor to realize in the final 3D model, so now is the perfect time to check.
When you're ready, extrude the sketch and make it a 3D part. Go through and make sketches on the remaining faces, extruding and cutting them until you have the finished product.
This part can take a lot of time. Making sure everything is correct while going through the process will help ensure the final aerospace drawing matches the legacy drawing.
Distribute the New CATIA File and Back it Up
Now that your CATIA file is created, you should back it up and send it out to the appropriate people. Let the whole engineering team know where this file can be found, and share the information with sales, logistics, and anyone else in the company.
In addition, you can use these CATIA drawings to get quotes from machine shops for fabrication. Backing up the file ensures that the work doesn't get lost in case your server gets corrupted, hacked, or destroyed for any reason.
You Can Outsource This Tedious Process
This process might sound simple, but you could easily spend days or weeks converting your aerospace mylar drawing into a usable 3D CATIA model. If you have multiple files that you need to convert, this process takes even longer.
Plus, we can't overstate how easy it is for a small mistake to be made which ruins the final model.
If you want to avoid all of these headaches, you can outsource the work to our expert team at CAD/CAM Services. We've converted millions of drawings over our decades in business, and we can help you too. A lot of our customers are in the aerospace industry, so we have a deep understanding of this topic.
By outsourcing your drawing to CATIA conversion, you'll also save time and money. Our team will expedite the conversion, and you only pay for the engineering efforts that went into the project — you're not paying for our team's vacations, breaks, or benefits.
Conclusion
As you just learned, converting an aerospace Mylar drawing into CATIA is a tedious and time-consuming process. You'll have to make a 2D scan and then create the file from scratch in CATIA, using the scan as a reference. To save time and money, trust our pros at CAD/CAM Services.
With over 100 engineers and draftsmen working 24/7, we will get you CAD Perfect results in no time. Whether you need to convert one aerospace Mylar drawing or 100, we're here to help. Get a free quote today.
This article was last Updated on June 14, 2023