In many engineering and manufacturing projects, "good" isn't good enough — you need "perfect". Well, when it comes to perfect, no outsourced CAD team does it quite like CAD/CAM Services. Our work is always CAD Perfect, and this guide will teach you what that is, how that works, and why you should only accept CAD Perfect drawings.
What Is CAD Perfect?
"CAD Perfect" is a term that our team at CAD/CAM Services had trademarked. To us, it's a simple promise to all of our clients — we won't deliver any CAD files that are short of perfect.
Other companies like to cut corners and take the easy way out. While it might save them time, it ultimately hurts your company. You'll be overpaying for 3D and 2D files that aren't good enough for you.
Instead, our whole team puts a massive focus on delivering "CAD Perfect" results. We go through a rigorous design and review process (which we'll cover later) to ensure this is the case for every single file that leaves our shop.
What Makes Our Drawings CAD Perfect?
We've been making CAD Perfect drawings for decades, and we've produced millions of drawings this way. So, what makes our drawings CAD Perfect? There are a few things that go into it:
Our Attention to Detail
Above everything else is our attention to detail. Our staff is experienced and trained on looking for tiny details in every 2D drawing and 3D design. Part of this comes with experience, and part of it comes with the culture at CAD/CAM Services.
We'll include parts of a drawing that most clients won't even notice, but the machine shop will deeply appreciate. Why? Because we want you to have the best drawings possible.
Whenever you send templates and drawing standards that you use, we'll apply them to our drawings to ensure everything is cohesive for you.
Our Peer Review Process
In the world of engineering, it's easy to make a simple oversight. This becomes even more true as the project gets bigger and there are multiple parts that need to be designed and assembled.
Over the years, we've found that a peer-review process works the best. We give all of our drawings to a second and sometimes third engineer to go over and adjust. This helps us find any issues before you receive a drawing, effectively saving you time and headaches when you go to fabricate the part.
This is something that very few outsourced engineering teams offer. A lot of companies want to rush through the work and send it as soon as they can so they can move to the next project and get paid. This method only hurts every client (you) in the process.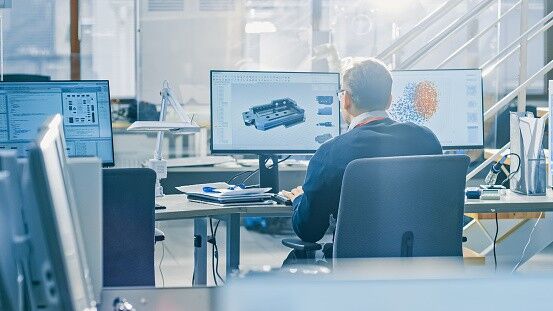 An outsourced engineer takes a 3D modeling learning course to further hone their craft.
Our Continued Training and Education
Even though our engineers are trained and educated already, we don't get complacent. All of our team goes through multiple trainings as part of a continued effort to improve and optimize their skills.
As a result, our team is well-oiled and we can handle a massive workload while still delivering high-quality, consistent, fast work. We can't get close to CAD Perfect unless our team is perfect, and training is one way to achieve that.
Hiring the Best Talent in the Country
Another way to achieve a perfect staff is through a difficult job search across the country. We hire talent from all over, and pay for their relocation to our headquarters in Celina, Texas. Why? Because we want the best engineers, period. We don't just want the best engineers within 10 miles of our site.
As a result, our team can achieve CAD Perfect drawings very consistently, unlike other outsourced CAD companies.
Treating Every Drawing Like It's a Design for Our Company
Whenever we make a drawing or reverse engineer a part, we pretend like we're making an in-house design. We treat every project with the same level of attention and care, ensuring that you get the best results.
Some outsourced companies will only view your project as a quick paycheck, and they'll rush through it and take shortcuts. They think that the work doesn't matter, since they're not using it in-house.
This way of thinking will hurt the project's performance and waste a lot of your time and money. The bottom line is that your project matters, and our team understands that. Our team works as hard as if we're working for you directly, which is just another way that we can promise CAD Perfect drawings.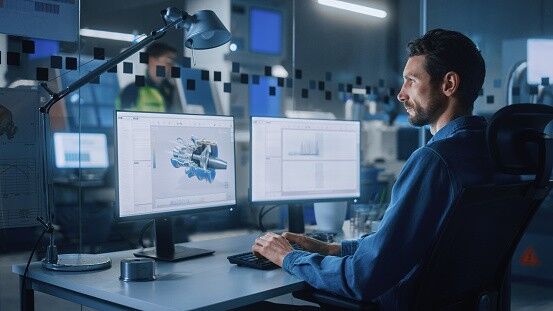 An outsourced CAD engineer works on a 3D aerospace turbine for a client.
Trust the CAD Pros at CAD/CAM Services
When it comes to perfection, no one does it better than CAD/CAM Services. We always deliver CAD Perfect drawings, and you'll see the difference when you work with our expert team. We offer a wide range of services, but one thing is consistent between them all: CAD Perfect drawings, every time.
Conclusion
You just learned more about what CAD Perfect means, and how you can get CAD Perfect drawings today. This is only possible through CAD/CAM Services and our team of over 100 engineers and draftsmen that work around the clock. We've delivered millions of CAD Perfect drawings over the decades, and we can do the same for you, too. Get a free quote today.
This article was last Updated on September 5, 2023