How can you know if you're overpaying and getting tricked when it comes to CAD drafting services? A lot of outsourced engineering companies are secretive when it comes to pricing, and that makes it easy for them to scam you. At CAD/CAM Services, we've always been honest. Our pricing has been published on our site in bold letters since the first day we opened.
To help you, our CAD experts put together this guide. We'll tell you what prices you can expect to pay when you outsource your CAD drafting project. If you get confused at any point, give us a quick call and we'll help you better understand CAD drafting services prices.
What Goes into CAD Drafting Services?
CAD drafting services are when a company provides 2D CAD for your engineering team. Typically, 2D CAD drawings are sent to machine shops to get the part manufactured, but they could also be used for cartography, branding, building layouts, inspection plans, or any form of landscaping.
The company you pay will use a CAD program to put together all of the drawings you need, then send the final versions to you.
Quick Definition of Outsourcing
Outsourcing is when you pay an outside company to handle engineering, drafting, and drawing for you. It might involve making a new product design from scratch, converting a legacy drawing into a 3D model, or creating a ton of 2D CAD drawings.
You would pay the company an hourly or fixed rate to handle your engineering work. They'll deliver final CAD drawings that you can send to a machine shop for manufacturing. These files should be in whatever format your team can open. Some companies prefer PDF, others like native files in their CAD program of choice.
Some Factors in CAD Drafting Services Prices
Before talking about specific prices, let's break down some factors that can change the basic cost of your CAD drafting package. As a quick disclaimer, we're not suggesting that you avoid choosing senior staff, stray from intricate designs, or shrink the size of your project for the sake of saving money. This is just a quick cheat sheet to help you understand why your quoted price might be higher than a previous quote you receive from the same company.
The Size of the Engineering Team
First off, how big is the team you're working with? This question breaks down into two separate parts. One part refers to how many engineers are assigned to your project, and the other part refers to how many engineers the company has to pull from.
In a small, 3-person outsourced team, they will need to charge more for each project to make sure they stay profitable. For a massive 100-person outsourced company, assigning 3 people to your project is not a big deal at all. At the same time, 97 other workers are making money elsewhere.
With more engineers assigned to your project, you'll pay a higher hourly rate (triple the normal rate), but this can often lead to cost savings over time. Not to mention, this will speed up the timeline as compared to a 1-person engineering team.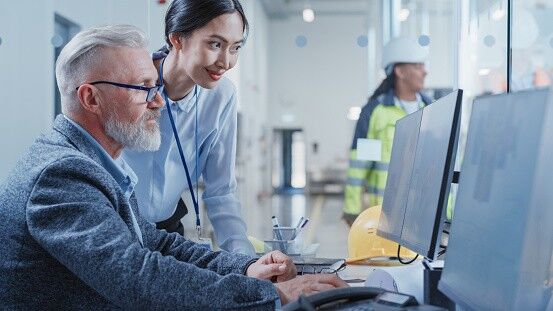 A senior CAD engineer reviews work for an aerospace client with his peer to ensure the work is CAD Perfect before sending the files.
How Skilled the Staff Is
In our industry of outsourced engineering, staff experience and training is one of the biggest cost inflators. Paying for a low-quality, inexperienced team is more affordable, for good reason. The team will make more mistakes, waste more of your time, and might even deliver a part that can't work in your application.
A more skilled staff will streamline your project.
At CAD/CAM Services, all of our staff is highly skilled, but we have different cost breakdowns based on experience — our senior engineers will cost more than our entry-level draftsmen.
The Size of Your Project
A larger project will cost you more money, and that's standard across the industry. Whether you're paying an hourly rate or a flat rate per 2D drawing, you'll pay more if your project requires more work or more drawings.
Complexity of Your Parts and Required Regulations
The final piece to discuss is how complicated your parts are, and any regulations that we have to meet. For instance, medical devices have a lot of federally mandated design requirements. For us to design a medical component, it takes more time, more experience, and a more restrictive design process. As a result, we have to charge more.
For incredibly intricate parts, we often have to assign senior-level engineers to handle the design. Again, this adds to the total cost of your project.
Outsourced CAD drafting experts meet with a sustainable energy company to review the work that was delivered, including 2D manufacturing drawings.
How Expensive are Outsourced CAD Drafting Services?
With all of that context out of the way, let's talk about actual numbers. How expensive are outsourced CAD drafting services? We've talked to most of our competitors in the industry, and the prices can vary a lot. To keep things fair, we'll only discuss the pricing at CAD/CAM Services, which is surprisingly affordable based on the high quality of work we deliver.
Minimum price: $150

. We have a minimum

2D CAD drafting

price to ensure everything is fair to our engineers and your team.

AutoCAD 2D, D or E size sheet

:

flat rate $185

. Whether you need 1 or 100 sheets, the flat rate is the same for every drawing.

Basic AutoCAD 2D work: $45+/hr

. "Basic" work entails general levels of complexity. As things get more complicated, the price will have to go up.

SolidWorks work, level 2 or 3 CAD tech: $55+/hr

. With more experienced SolidWorks techs on your project, our hourly rate goes up slightly.

Creo 2D, Siemens NX 2D, and CATIA V5 2D work

:

$95+/hr

. These applications are more niche and difficult to work with. Plus, they require more effort for each drawing. As a result, the hourly rate has to be higher than AutoCAD or SolidWorks projects. This also

involves 3D modeling

, which means more expensive parts.
We don't have any secrets when it comes to our pricing. You'll notice that hourly work starts at $45/hr, or we can settle on a flat rate for each CAD drafting drawing that we submit to your team.
If you have a specific project you want to quote, send the details to our team and we'll give you an exact quote for the work. We're very responsive and you might get the final drawing sent back within 24 hours.
Conclusion
As you just learned, CAD drafting services prices can vary wildly from company to company. At CAD/CAM Services, we can afford to start drafting for just $45/hour, thanks to our staff of over 100 highly trained engineers and draftsmen. With millions of drawings produced over the past decades, you'll see the difference when you choose CAD/CAM Services. Get a free quote today.
This article was last Updated on September 5, 2023