Many scanners are designed to handle very specific types of documents properly, while others offer higher degrees of flexibility and the ability to scan just about anything. Just like size, speed, or resolution – you have a choice in the versatility of your wide format scanner. You also need to consider how compatible your scanner will be with your existing equipment and workflow. A truly flexible scanner will have the ability to plug-n-play with what you already have.
Technical drawings, including CAD plots, sketches, planning maps, or other documents with lin
e information are the most common documents scanned, as most manufacturing, design, and construction plans are designed in large format. So logically, most wide format scanners can capture this type of content. But don't forget that the media type is also very important. Many old drawings are printed on anything from plain paper to linen to long-life materials like Mylar. They are also commonly stored rolled, folded, or hanging to save space in the pre-digital age.
Since maps are also the commonly simple large format in size, most scanners can scan these documents very well. But the same rules apply as above – the media type and condition are very important. When scanning maps for data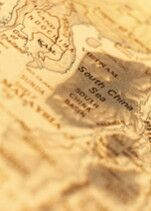 or feature extraction, the accuracy of the scanner is often criticized as well. Some maps are also more photographic – with smooth color transitions and high color detail. As with technical line drawings, you may also have maps with very fine lines and text that require a higher quality scan to reproduce accurately.
In general, when you need to scan a wide range of document types and varying condition/age documents, then you should look for a scanner based on CCD technology. If your needs are simpler – just maps or drawings in decent to good shape – then CIS technology may meet your expectations. When comparing, keep in mind that CCD scanners may be more capable, but that comes at a somewhat higher price as well – depending on the model.
If you have a large number of CAD drawings, you should also consider the scanning software. The more automation in the software, the faster you can complete the scan and move on to the next document. Auto-sizing, auto clean-up, auto enhance, etc., can help get the job done faster. In addition, the software should be simple and straightforward, without sacrificing features you need to handle difficult documents.
Contex's IQ Scanners
When you're working with maps and technical drawings and you need a scanner that doesn't compromise on quality, Contex's IQ series scanners may be the more affordable choice that meets your needs. This is a relatively new scanner series, designed to provide shar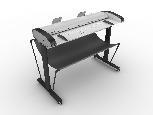 p, clear images on your most detailed documents. These scanners are simple to install, simple to use, even simple to transport. And with three different sizes and several different models to choose from, you can be sure you don't have to pay for features you won't use.
New Image Quality:
When scanning maps and drawings, precision often means capturing very fine lines and text. The IQ series have new customer CIS modules with Dual Diffusion that ensure the most natural light and best image reproduction in any CIS scanner. IQ scanners have 1200dpi optical resolution – capable of capturing even the smallest of details in these documents.
Post-Scanning Conversion
Once you scan your large format technical drawings, you will need to convert your scanned raster files to be able to edit them within your CAD or GIS system. There are many different methods for conversion, ranging from automatic software conversion programs to laborious hand re-drawing. For instance, if you want a workable AutoCAD file, manual tracing is the only method that ensures a quality conversion.
This is where post scanning conversion becomes more of an "art" than a science. Knowing which method will work for each drawing. And sometimes, it's not just one method; it may be a combination of two or more methods used in one drawing. Read some of our other blog posts about raster to vector conversion for more details.
This article was last Updated on February 10, 2022