If you're running a construction company, there's a good chance that you're always looking for a way to save money and expedite each project. If you can do that, it means that you can take home more money each year and further grow your operation. Regardless of your construction company's size, you can benefit from temporary drafting.
In this expert guide, we'll outline what temporary drafting is, why it's so great, and we'll outline 9 ways that your construction company can benefit from temporary drafting.
What Is Temporary Drafting?
Also called outsourced engineering or third-party drafting, temporary drafting is a service where an outside company handles all of your drafting and engineering work. They're brought in on a per-project basis, and you only pay them for the engineering they perform for your specific project.
For instance, let's say your construction company needs to build a full drawing package for an upcoming project. It includes electrical, structural, piping, plumbing, and equipment layout. You would bring in a temporary drafting team to handle one or all of these tasks, then they would leave after the project is done.
In the meantime, you can work on other aspects of the project, such as planning, logistics, or sourcing material. Temporary drafting is a highly popular option today, and it's getting even more popular.
Some construction companies offshore this work to other countries, but they quickly realized that language barriers and low-quality companies were ruining the project. For that reason, construction companies tend to stick with American-based temporary drafting services to get the best results.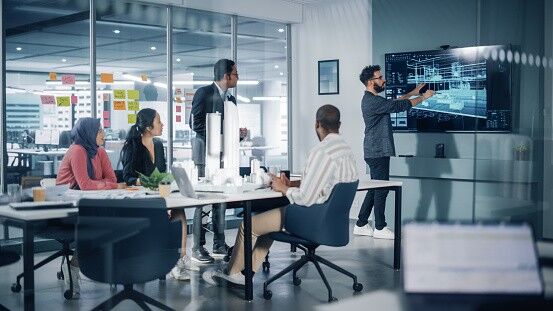 9 Ways Construction Companies Benefit from Temporary Drafting
How can your construction company benefit from outsourcing your CAD work? Here are a few ways.
Leverage the Experts
At CAD/CAM Services, we have a number of experts from different niches. We have experts on structural design, electrical, materials choices, static loading, and so on. What does that mean for you? You can leverage dozens of experts from a single place.
If you were to subcontract each individual expert, you would be searching for a long time and grossly overpaying for the services. Plus, you would need to fight to make everyone's schedule work.
When you choose the right company for your temporary drafting, you unlock access to a number of experts that can give you the best results for your project. Our team can help you determine what spacing your joists should have so you meet the code and support the structure without overpaying.
Free Up Your Team
You likely have a team of draftsmen who are capable of putting together blueprints. Still, there's definitely other work they can help out with. When you outsource the majority of your drafting work, your team can start working on other projects.
Maybe your engineers can tackle a timeline-critical design while we handle all the ancillary designs. With two teams working at the same time, you can accomplish a lot more.
Get Blueprints Quicker
Another benefit of outsourcing CAD work is that your construction blueprints will be done sooner. For one, we have a massive team of engineers that work 24/7 to ensure you get drawings as soon as possible. In addition, we have a lot of experience on our staff. That means that we know how to get perfect results even quicker.
While this is happening, your engineers can work on other drawings to further expedite the project. This translates to faster job completion on your part, and more success for your company. It's a win-win for everybody.
Juggle More Projects at Once (with Less Stress)
With temporary drafting, your team of engineers has temporarily grown. This gives you the ability to handle more projects with less stress.
If your team alone can handle four big projects a year, how many could you handle with 10 temporary draftsmen under contract? You could easily double the work you can handle without losing your mind.
This obviously means more money in your pocket at the end of the year, and more success in your field. At the same time, you don't have to sacrifice quality to achieve this, thanks to our team.
Save Money on Every Drawing
Every drawing will be less expensive when you hire an outsourced CAD team. You're not paying for days off, benefits, sick time, or anything like that. We typically charge a fixed rate for every hour dedicated to your project.
Thanks to our reliable staff, you'll experience a steady stream of incoming drawings without the need to follow up or probe your workers to finish drawings. This cost savings gets even more obvious if you contract us to handle a 3D model of your building.
Focus on Planning and Logistics
We know that every construction company has multiple branches. Since your engineering and drafting efforts will be lightened, you can focus more on planning, logistics, and sales. This pivot is only possible with temporary drafting handling your engineering work.
A former construction client explained to us that logistics and sales make all the money, and the engineering team is there to justify the costs and avoid issues. With our team taking care of the drafting and modeling, you can hit the pavement harder and make even more sales.
It also gives you more space to optimize your planning and logistics team, which will cut down on project time and expedite deliverables to the job site. How you structure your company is up to you, we're just there to take away the engineering burden.
Get a Full, Interactive 3D Model of Your Building
We've worked with a number of clients who asked us to build a full 3D model of their existing or future buildings. This included electrical, plumbing, structural, and equipment layouts. With a 3D model, you gain unparalleled access to your project. You can show it to your clients, use it as sales material, check for errors, and much more.
For residential construction companies, these 3D models can be shown to the client and you can give them a virtual tour. This is a good time to pre-select trim and finishing details to ensure there's no confusion once the project starts. There's no limit to what an interactive 3D model can do for your construction company.
Optimize Installation and Troubleshooting During the Build
Another benefit of a full 3D model is that you can optimize the installation and building process. You'll also have a full reference to troubleshoot any issues that might arise.
Some construction companies will use the 3D model to pre-cut beams so they don't need to do it on-site. The same is true for any tilework or concrete pouring — you can estimate exactly what's needed before stepping foot on the job site.
If something isn't installed correctly, refer to the model and see if the team missed something or mismeasured some parts. It's a great tool to lean on during the physical construction.
Get A Full Bill of Materials Instantly
You can cut a full sheet of materials before you start building. Using a 3D model, you can pre-order exactly how much lumber, steel, and tile you need. You can arrange deliveries for drywall, concrete, and fill dirt months in advance to accommodate current supply chain issues.
This bill of materials can also help you quote the project, since you'll know what's needed before the ground is broken.
Conclusion
Construction companies have a lot to gain from temporary drafting and complete 3D models. Starting is easier than you might think, just reach out to our construction experts at CAD/CAM Services. We are a full-service temporary drafting company that's provided millions of drawings over the past decades. Get a free quote today.
This article was last Updated on June 18, 2023