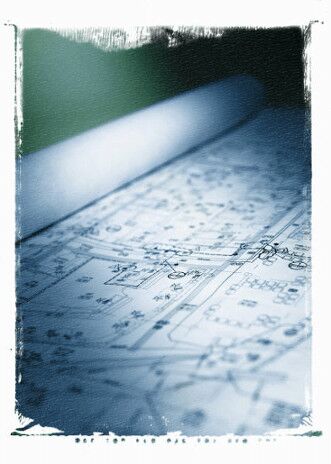 If you're an organization that deals with construction, architecture, engineering, or manufacturing, then you use large format drawings and plans in your day-to-day business. Sooner or later you're going to have one of those large-format paper drawings that you need to scan for a CAD drawing.
Or, you may have built up a substantial archive of large format drawings and plans that are taking up storage space. Not only are they difficult to store, but they're also difficult to manage – how do you find the one you need? How easily can you share it with someone else?
Scanning and converting these large drawings into an electronic format provides a quick and efficient electronic solution to these problems.
As specialists in document scanning and CAD conversion, we're often asked very specific questions about scanning large format drawings to CAD.
If I'm going to scan my large format drawings myself, what size scanner should I get?
Generally speaking, if the scanner you use handles a 36″ image scan, then that will fit all D and E-size CAD applications. Today's large-format scanners come in sizes up to 44" image scan or even larger, so our recommendation for CAD scanning is to get the size scanner that best fits the size of your drawings. Don't forget, even if a paper drawing has a size larger than 36" in one dimension (36"x 48" for example) you can always rotate the drawing so that the 36" scanner size will accommodate it. So, that means that a D size drawing (24" x 36") can be scanned in landscape mode, but an E size drawing (36" x 48") must be scanned in portrait mode.
When a drawing is scanned in portrait mode, you need to rotate the drawing for the CAD conversion. If you have a lot of drawings that need to be scanned in portrait mode, it may be advisable to go up a size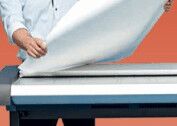 in the scanner that you purchase so that you can scan in landscape mode. This saves the additional step of rotation, which means that it may be faster since you eliminate this step and the length of the scan is smaller. Additionally, some scanning experts feel that scanning drawings long side first means helps to eliminate skewing because they are being gripped by more rollers.
It really is a matter of personal preference and budget restraints.
What's the best file format to save my scans in, if I'm going to convert them to CAD?
In general, our recommendation is TIFF, however, see our Best File Format article for other options. In regard to TIFF files, there are several types: TIFF Group 4 is widely used for saving black and white images. Other TIFF file types can save color. TIFF files are usually compressed. Because they are compressed they save disk space but unlike JPG files which are also compressed TIFF files don't lose data or quality during the compression process.
Some people choose BMP (bitmap) because it does not lose file quality, but, because it is an uncompressed format it creates very large files that can be cumbersome to work with.
We most definitely do NOT recommend JPG files. The quality of scanned images saved as JPG
is not good and often CAD drawings appear to have smudges around what should be clean sharp drawing lines. In addition, JPG files are always color files, which means that even black and white CAD drawings will be converted to 16.7 million colors so that the black lines are made up of many colors and are no longer clear and sharp. Also, the reduction in image quality makes accurate CAD conversion very difficult.
How should I label and store my files once they're scanned?
After you've scanned all of your drawings and cleaned up the scanned images by de-speckling, cropping, de-skewing, and image optimizing processes to obtain the best results from the scanned plan, you should index the images based upon the indexing system that you currently use, or if you don't have an effective indexing system, then we recommend considering some of the following categories for indexing:
Drawing Reference Number
Drawing Title or Description
Drawing Size or Category
Client Name
Date
Issue number
Over 5,000 E size drawings can be scanned and archived on a standard CD. Over 30,000 E drawings can be archived on one standard DVD. That CD or DVD can be accessed from any laptop or computer while in or away from the office. The electronic documents can also be copied to your network or hosted securely online for instant, shared access. The choice is yours.
Contact our team to learn more about our services.
This article was last Updated on January 24, 2023