The Advantages and Uses of BIM
BIM has many advantages over traditional CAD design methods and represents a completely different approach to building design and documentation. Since CAD essentially automates the traditional "paper & pencil" process, CAD drawings are created as stand-alone documents, and design changes need to be followed up and implemented manually on each CAD drawi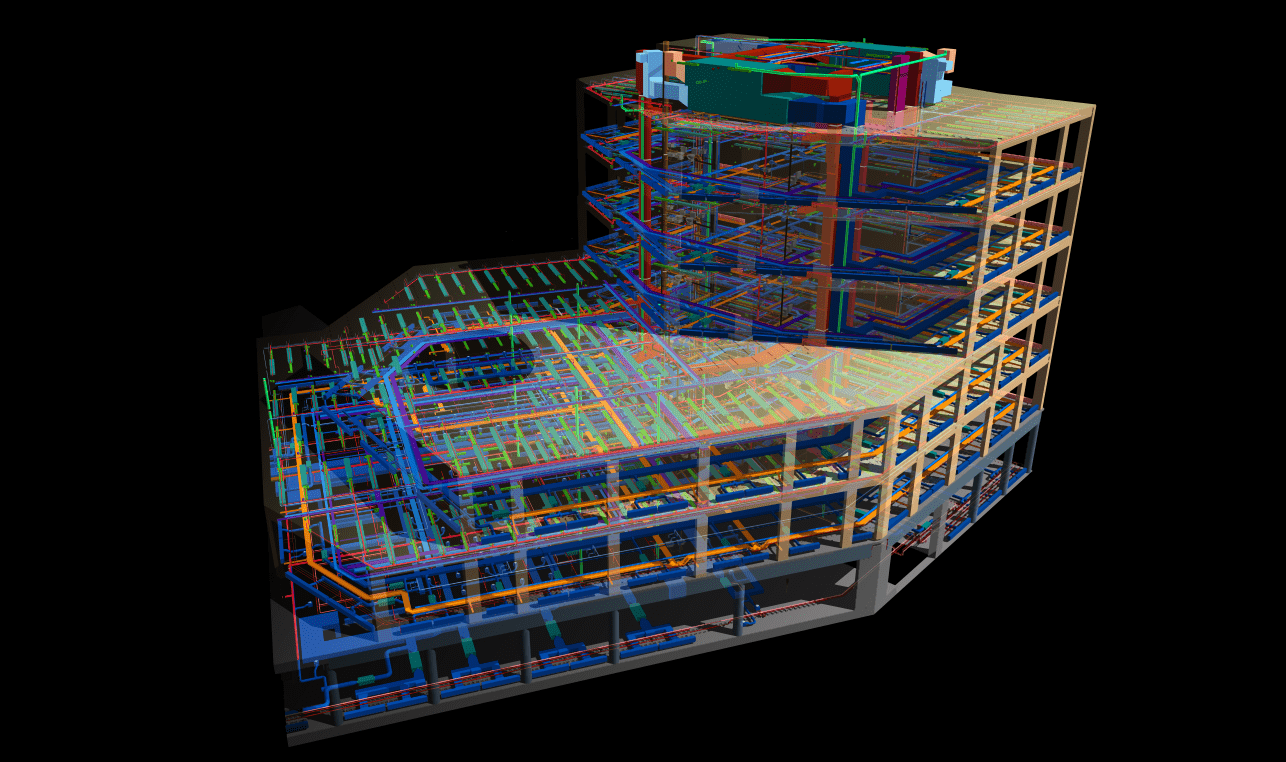 ng.
BIM (Building Information Modeling) applications enable the buildings to be "built" in a virtual environment with all data stored in the central building model, enabling design changes to be automatically implemented on individual drawings generated from the model. This 'change once- update many" approach, makes BIM a boon to design and construction productivity, while also enabling better-coordinated designs.
BIM acts as a single-information resource for the entire project and supports all personnel who can access the BIM applications. This integration of information is made possible through involving 3-D models of the building plans, the 'as-built facility,' as well as data related to subsequent building upgrades or for conceptualizing ways of solving problems that may be encountered once the building is put to use. Therefore, BIM becomes a way to virtualize construction, design, and management of a building throughout the life cycle of the building. A standard BIM database would include:
Detailed drawings, including 3D presentations
Spreadsheets containing cost information
Descriptions and visualizations of structural components
Building maintenance information and safety checks
Department layouts and Information
Management updates
Compatibility issues for proposed alterations in the building design
While BIM is primarily considered as a design/build solution, as a software application it can be used as a powerful building management tool. This is particularly important in industries that may not readily share information across various departments. By involving not only construction but building management staff and day to day administrators of building care, the BIM modeling process becomes more comprehensive. BIM's collaborative platform is remarkably effective in resolving issues that can directly affect a building's performance, as possible inconsistencies can be easily pointed out. In this way, BIM can often be used as an affordable and effective resource to improve business operations through effective building management. One of the benefits of using BIM is improved communication and collaboration between extended design teams. This is true whether BIM is being used to design healthcare facilities, schools, or energy efficient office buildings. The suitability of BIM across various industries has been proven.
BIM can be used to detect design problems early in the process, preventing costly mistakes further into the building project. It helps in displaying exhaustive lists of operational and conceptual ingredients that are involved in the setting and functioning of complex industrial settings.
Understanding the way in which BIM solutions function in an integrated manner and provide comprehensive solutions for building designing, maintenance, and operability
a streamline construction costs and operational procedures along with improving building performance.
For instance, BIM can be used for energy analysis. Much of the actual energy that is delivered to buildings is wasted because of inefficient building technologies. By using BIM models for new construction, an analysis of energy used can be undertaken before the building is constructed, enabling significant energy savings through cost-effective efficiency improvements in buildings and their equipment.
Existing buildings can also benefit from BIM energy analysis. Many older buildings are regularly reconfigured to accommodate new tenants. During reconfiguration and remodeling a BIM energy model can be generated from existing CAD drawings and 3D scanning technologies. While the resulting energy model may not visually look like the actual remodeled design, it can provide important information an energy analysis to be done, enabling the building owner to make his building more efficient with every new tenant remodel he does.
Energy efficiency is one of many ways that BIM models can improve the design process, whether for new construction or updates to existing construction.
download white paper using bim technology- guide for small construction co\'s
This article was last Updated on June 13, 2020