Wicks and Wilson CAD Scanners
Microfilm Aperture Card & Universal Microform
C400 Aperture Card Scanner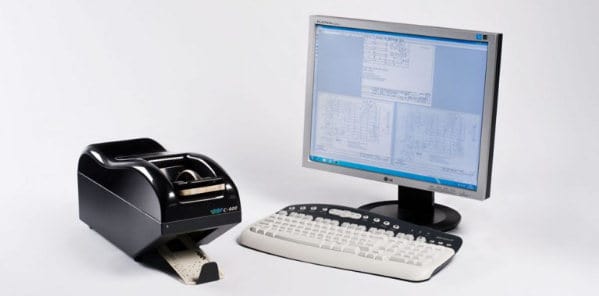 Wilson Cad
The C-400 is a compact scanner for the digitization of 35mm microfilm aperture cards. Once scanned, the data can be accessed instantly for viewing, printing, email, distribution or storage. It features an automatic feed system that can scan batches of 150 cards unattended. Advanced image enhancement and editing tools are included as standard in the operating software.
The Wicks and Wilson C400 aperture card scanners are also manufactured under the Mekel Technology brand as the MACH1 ACS.
Key Features:
Includes Hollerith read and auto-feed hopper for unattended batch scanning.
The affordable and convenient solution for the conversion of your microfilm aperture cards to digital images Latest digital imaging technology: create high-quality images at full resolution; go straight from microfilm to digital image file
Hollerith (punch) data is automatically read and used to select drawing sizes and file names (if required)
Dual-save allows both bitonal and grayscale images to be saved from a single scan of the card
Auto white balance (AWB) produces the best possible grayscale and bitonal images from each card
Fully compatible with Windows 7 Professional (32 and 64 bit), Windows 8/8.1 (64 bit) and Windows 10 (64 bit only)
High-speed USB plug and play connectivity; reduces set-up time
Simple and effective interface
Virtual rescan: automatically reprocesses the scanned image with alternative imaging parameters. No need to physically rescan the aperture card.
Designed for microfilm: optics, scan engine, and SmartCode image processing algorithms all developed by Wicks and Wilson engineers specifically for microfilm scanning
Flexible scanning solution: capable of scanning any ISO aperture card with no extras or modifications to purchase
* Maximum speed dependent on PC configuration
Technical Specifications:
Model C Drive X C400 Resolution 100-400dpi 100-400dpi Speed (A2/C Size, 200dpi)* <10s 370 Speed (A2/C Size 400dpi)* <13s 300 Hopper-feed Single card manual 150 card automated batch feed Hollerith entry Manual Automatic (IBM, MIL STD 804B) Reduction ratio 7.5x to 40x (variable) Dual-save (grayscale and bitonal) Yes Scaling accuracy +/0.5% File formats (bitonal) TIFF, CALS, PNG and PDF File formats (grayscale) JPEG, BMP, RAW TIFF, PNG, and PDF Agency approvals CE, UL, cUL RoHS compliance YES Size (W x D x H) 150mm x 200mm x 90mm (5.9″ x 7.9″ x 3.5″) 170mm x 460mm x 210mm (6.7″ x 18.1″ x 8.3″) Weight 1.9kg (4.2lbs) 5.8kg (12.8lbs) Power requirement 110/240V; 250/170mA external power pack Controller PC See website (www.wwl.co.uk) for current specifications Operating system Windows 7 Professional (32 and 64 bit); Windows 8/8.1 (64 bit); Windows 10 (64 bit only)
---
Universal Microform Scanner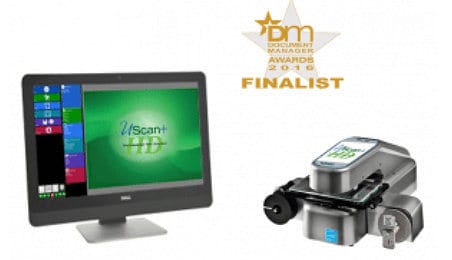 Ideal for Walk-up Patron Scanning and Lower-Volume Use
The UScan+ UF (Universal Film) Series employs three decades of industry-leading Mekel Technology and Wicks and Wilson production-level microfilm, microfiche and aperture card scanner technology. It combines high-volume expertise with walk-up patron requirements.
It's uncomplicated. It's versatile. It's high-quality imaging at an easy-to-operate level.
The UScan+ is marketed under several names worldwide, including Mekel Technology MACH2 Universal; Genus Ozaphan UScan; and the Zeutschel delta plus.
Key Features:
NEW! Industry-high 18MP sensor in the UScan+ HD model
Scan, print or save in color, bi-tonal or grayscale
ENERGY STAR Certified
Touchscreen-compatible interface
Customizable quick-start menu
USB 3.0 connectivity
ILL (Interlibrary Loan) Compatible
Flexible output options (Email, Cloud, USB, etc.)
Two built-in USB ports
RapidScan option for automatic advance and frame detection
Option for direct output to searchable text (OCR)
Product Awards: