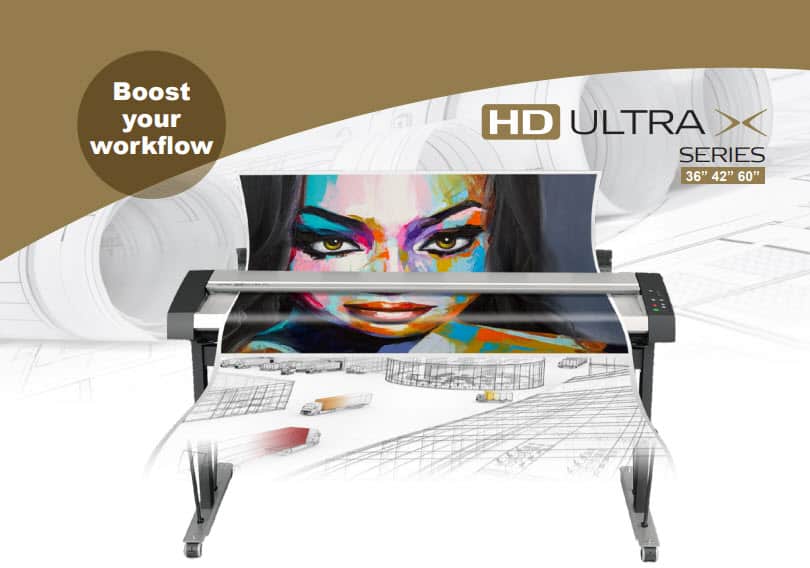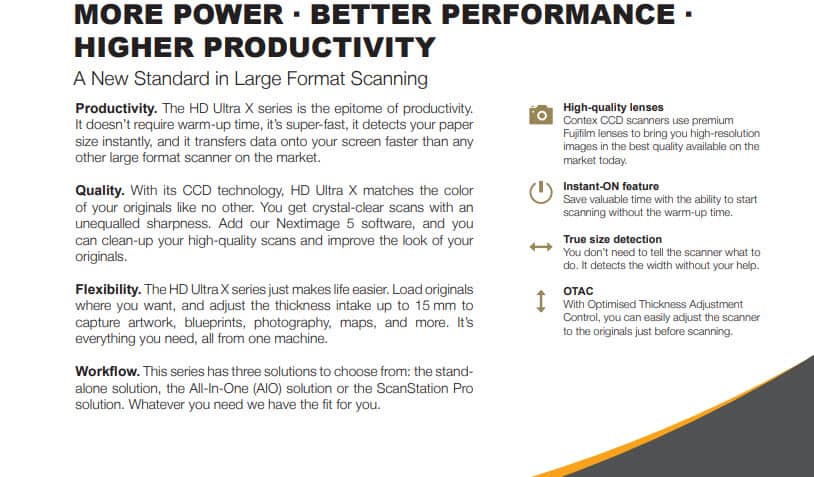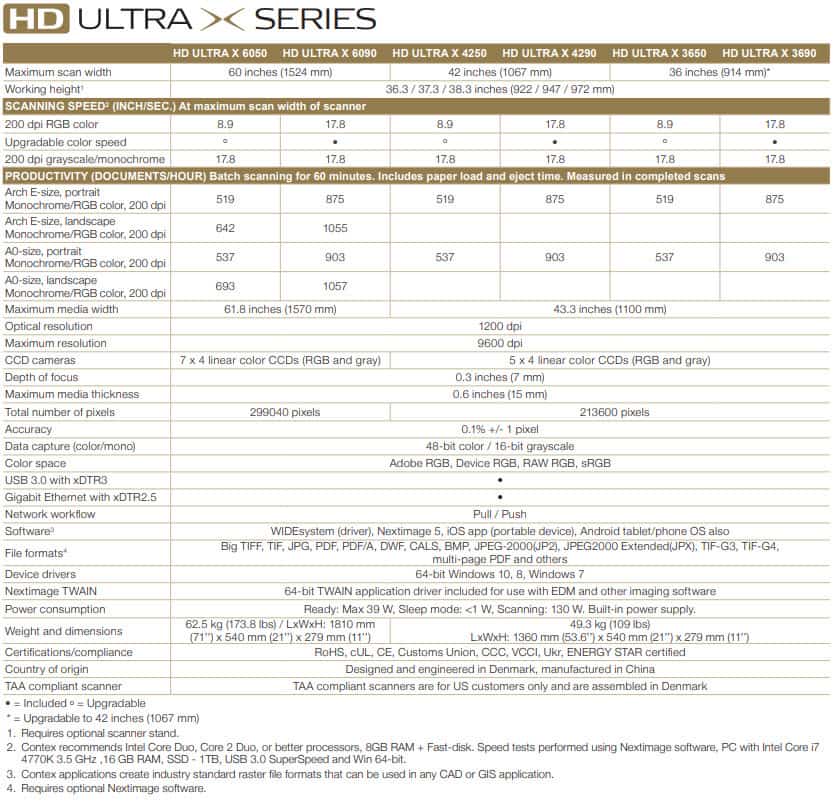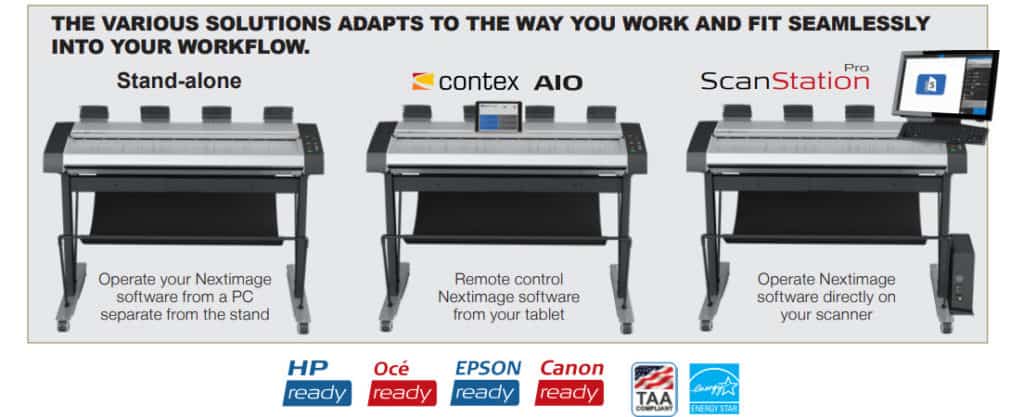 To get a quote or to arrange a Demo, please click the button below and We will contact you shortly.
scan at up to 17.8 ips in 200 dpi RGB Color
60-inch width for those really wide originals
custom made Fujifilm lenses ensuring high-quality scans
an instant-ON feature which saves time and reduces your electricity bill
automatic width-detection – no need for selecting sizes
optimised thickness adjustment controller (OTAC) allows almost any original to be scanned
3-level speed adjustment to match your workflow
save your scans directly to a memory stick using the high-speed USB 3.0 interface
scan up to 1054 scans per hour
1 GB extreme buffer allows you to feed the scanner as fast as you can
new, free touchless glass system reduces maintenance and downtime
copy your originals directly to the most popular large format printers using integrated printer drivers
scan papers, Mylar, polyester, canvas, card, water colours, fabric and so on, but with a maximum focus-ability up to 7 mm (0.28 inches)
FREEDOM OF COLOR SPACE
Adobe RGB
The preferred choice for color professionals who need the maximum number of colors from the scanning process and is the best choice for high-quality printing. sRGB color space is best for display viewing and general printing.
ICC profiles work to ensure accurate color reproduction on your chosen device (the device must be able to support selected color space).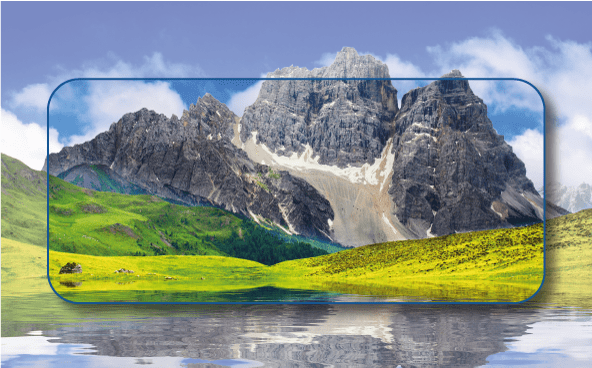 Device RGB
Contains all possible colors obtainable from the scanner. Uses scanner ICC profile.
sRGB
The default scanner color space providing all-round, high-performance color.
Large Format Scanning – Redefined
KEY TECHNOLOGIES – NEW & IMPROVED
USB 3.0 Superspeed xDTR3 – We have adapted our xDTR technology to work with the USB 3.0 SuperSpeed protacol increasing its perfomance drastically.
Gigabit Ethernet 2.5 xDTR2.5 – Optimised for up to 100 MB per second
Gbit throttling buffer control – Extreme Buffer of 1 GB for smooth data transfer
Contex True Size Detection – HD Ultra X finds the paper width as it scans. No wasted time. No shoe shine but instant width detection. No more backwards and forwards movement of document while feeding it into the scanner. Just load and scan.
Contex Speed Matched Roller System – Contex Speed Matched Roller System compensates for the increased scan speed. Less chance of a skewed load. Increased productivity.
Contex Perfect Light – comes from engineers carefully selecting the very latest in light-emitting diode technology (LEDs) and combining this with specially developed diffusion filters.
Static Free Touchless Glass System -Enjoy virtually scratch free glass plates thanks to the new design of white background pressure plate in the HD Ultra X. The pressure point is out of the scanning line helping it stay free from scratches. The Minimal-friction, floating transport design of glass plate with new quick-release magnetic scan glass system, makes replacement or cleaning of class plate easier and faster than ever.
Feather mode – Protect your documents – use the right pressure for delicate document types. Adjust the Paper Pressure with the feather mode switch.
OTAC – Optimal Thick Adjustment Control. With one press of a lever, raise and lower the OTAC to suit required media thickness. It is very fast.
KEY TECHNOLOGIES – EXISTING, PROVEN GREAT
xDTR2 – Delivering 3 times the bandwidth of USB2, our unique Gigabit Ethernet implementation with xDTR2 is lightning fast and accelerates workflows even further via network sharing, where scans can be controlled from any computer.
AccuColor -To get the best results, your scanner and software should work with full 48-bit data. Where other scanners ignore some of this data, the HD Ultra is the world's large format scanner with true 48-bit color capture.
ALE – stands for "accuracy lens enhancement," and is a technology that corrects spherical errors in CCD-based scanners. The result is improved accuracy, which is especially important for GIS specialists and others involved in quality assurance and verification.
FlexDoc – Combining automatic thickness adjustment control (ATAC), all wheel drive (AWD), automatic contour correction and a new paper pressure adjustment, Flex- Doc enables you to scan anything from newspaper-thin documents to posters on foam boards, gator boards and other bulky documents up to 0.6" thick.
FlexFeed – With removable, no-rewind paper return guides, right-side loading, a funnelshaped feeder, and a convenient new exit tray, FlexFeed takes the hassle out of scanning any document, even up to 60″ wide.
SnapSize – makes it faster and easier to switch between different-sized documents by eliminating the need for manual software adjustments. Precision optical paper sensors register your document size and adjust the required settings automatically.
SmartShare – This allows all users in a workgroup to operate the scanner from their own computer via Ethernet.