As-Built Modeling/Project Close-Out
The CAD / CAM Services experts can capture all changes that take place during construction. We'll scan your As-Built drawings and sub-contractor mark-ups and incorporate the information into the BIM to generate As-Built models.
There are several components to this process:
3D scanning – to capture anything we can see.
Hidden object detection.

The lowest cost approach is by taking photos. The drawback is that it will require opening a panel through an inside of a wall or removing dirt/debris to expose piping.
Another approach is the use of GPR (Ground Penetrating Radar). While this method eliminates the necessity for opening walls or exposing piping, it can be costly.

Production of CAD files, which may be:

2D
Isometric
3D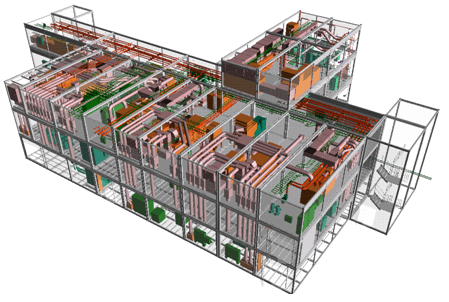 By building the BIM and linking all design data, cut-sheet data and field changes, the BIM can make project close-out much easier.
Also, by integrating the necessary metadata of the model for future use, we provide you with a BIM model that can be used going forward for FM, cradle to grave building management.