THE PROCESS, BENEFITS, HISTORY & FUTURE OF CAD / CAM
By: Scott Shuppert
CAD / CAM Services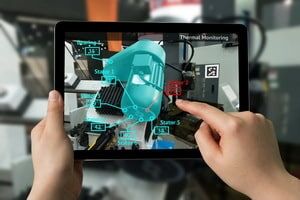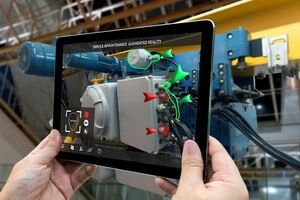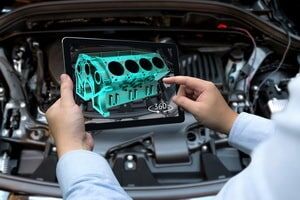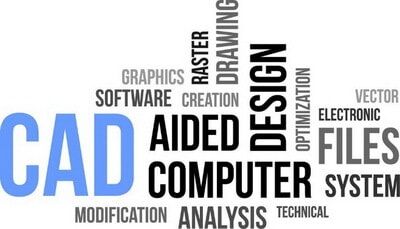 CAD is an acronym for Computer-Aided Design
Think of an engineer or an architect with a roll of blueprints, mylars or sepias. Over time, these files get damaged, they get wet, they change in size and are often lost or destroyed. This creates problems in the future when that device, building or a part needs to be maintained, inspected or updated.
This is where CAD / CAM comes into play
What is CAD (Computer Aided Design)?
CAD (Computer-Aided Design) is the process used by engineers and architects to generate CAD perfect electronic files. These electronic files contain text that is editable text and all geometry, such as lines, arcs and circles can be easily and efficiently edited and modified. The CAD process allows for complete and total control during and throughout the entire update process, while also ensuring correct and accurate design models and assemblies for the lifespan of that product.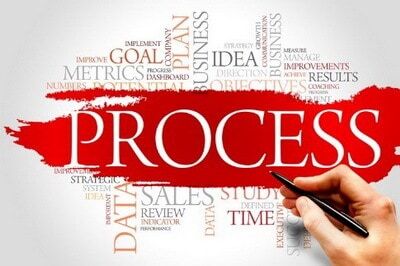 Computer Aided Design is a Process
Common CAD / CAM Abbreviations:
CAD (Computer-Aided Design)
CAM (Computer-Aided Manufacturing
CAM (Computer-Aided Engineering)
CADD (Computer-Aided Design & Drafting
What Companies Use CAD CAM?
Here are a list of companies that use CAD CAM:
Product designers
Architectural firms
Engineering firms
Manufacturing companies
THE CAD PROCESS: 2D OR 3D MODELING AND ASSEMBLY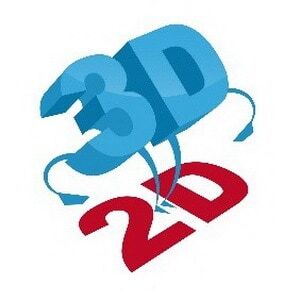 One of our more interesting projects was assisting in the design of the next generation autonomous electric cars.
This was a CATIA 6 Project
Our design parameters were in excess of 100 parts in sequence, each with their own unique set of tolerances that varied. Our job was to position each one of the 100 components, taking into account the tolerances of each unique part, to find out if that assembly would even fit.
This would not have been made possible to test, without the use of our electronic files and simulations. The technical term for this process is called Geometric Dimension and Tolerance (GD & T)
This process utilizes more complex entities like curves, surfaces, meshes, and solids.
The more complex entities allow us to get into the simulation side of the design.
These CAD assemblies are crucial to ensuring that all the individual parts of a design fit together and operate efficiently.
Intelligent CAD models enable us to play many "what if" games, guiding us to explore other considerations within a particular design. Using the various simulation processes, we can test the design before shelling out the huge sums of capital it would take to physically build that design.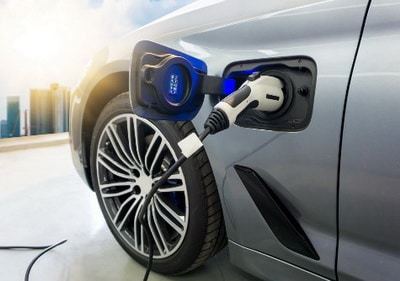 Autonomous Electric Car Charging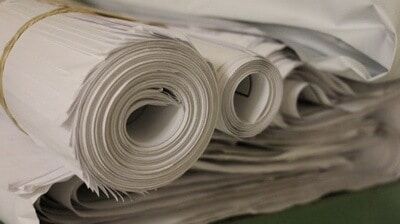 Electronic Files are best for Archival
ARCHIVAL: A Major Benefit of Electronic Files
The longevity of these electronic files far outlasts any paper blueprint, mylar or sepia.
They allow for greater control over design modification as parts change and maintenance is required over time.
CAD electronic files have proven themselves to be the best long-term answer for engineering work and archival. These electronic files never change in size, never become unreadable and they stay as accurate as the day they were created.
CAD / CAM gives Companies the "Competitive Edge" by reducing time to market.
CAD / CAM is very important to our US economic engine.
The process gives industries a competitive edge by reducing their cost and time to market.
This process has proven itself to be a much faster and less expensive way to design, model, simulate and often directly machine that new part.
CAD CAM gives Companies the Competitive Edge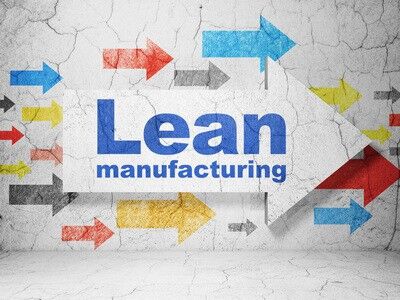 CAD / CAM supports LEAN manufacturing
CAD / CAM Supports LEAN Manufacturing
LEAN manufacturing (creating something for the best possible cost, and manufacturing this as cost-effectively as possible) would not be possible without the CAD / CAM process.
CAD and CAD / CAM is now used in almost all sides of Architectural engineering and Construction (AEC) and heavily used in the manufacturing of Shipbuilding, Automotive, Aerospace and many more.
One of CAD / CAM's largest gains has been in automating the manufacturing process.
A History of CAD and Today's Process
In the old days, we used to draw lines, arcs and circles on large drafting tables with pencils and over-sized erasers.
Color application pens, scale rules, set squares, T squares, and steel rules that would get damaged by being used repeatedly to draw lines.
Draftsmen, used to take days to complete a drawing manually and problems in geometry posed even bigger problems.
in effect, the manual process was old, slow, cumbersome and prone to a multitude of mistakes.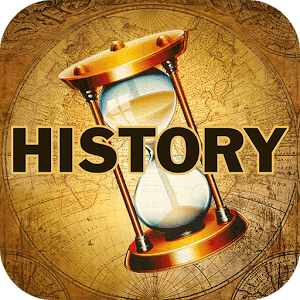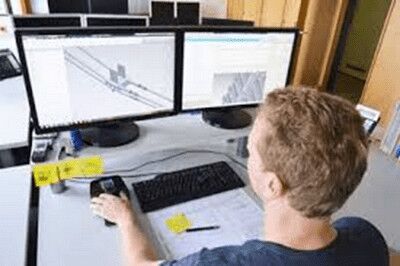 Today, we do the same task, more accurately and more efficiently behind a computer.
The beauty of this computer-assisted approach is in the creation, editing, and simulation of a design.
This approach allows for direct modifications or even analysis and optimization of a model or assembly.
In effect, we build an editable database of that engineering drawing.
Now edits are quick and easy!
So, basically we went from a manually hand-drawn engineering blue print, to a person sitting behind a PC, producing a fully editable, intelligent engineering drawing.
We started with a hard copy blueprint, which was then scanned and brought into the computer.
The next step was to turn it into a fully editable vector CAD Perfect file.
Now edits are quick and easy and the CAD Perfect file will remain the same for as long as you hold onto that file.
No more ammonia smell, whiteout, and the oversized eraser from the good old days.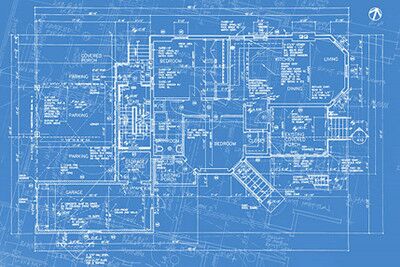 Old Blueprint of a Floor Plan
CAD / CAM has certainly evolved beyond v1 of CATIA as shown here at Chrysler in 1982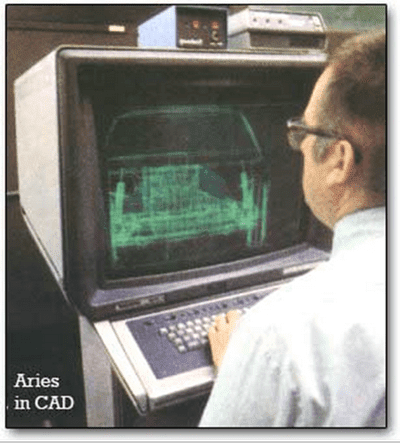 Old version of CATIA as used by Chrysler Corp 1
Old version of CATIA as used by Chrysler Corp 2
CAD / CAM was first being used as CAD initially, then driving CAM machines all the way back in 1981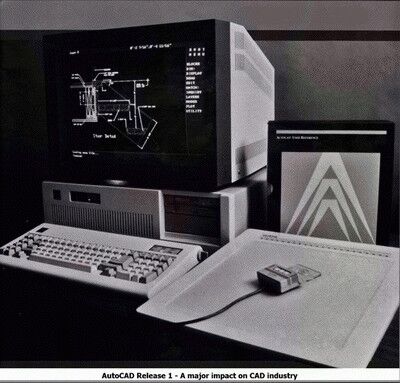 This is a picture of the original rock solid IBM PC that we would trick out to get beyond the 640 k ram limits of DOS.
Back when AutoCAD came on 5 1/4″ floppies and there were either Gtco or Calcomp digitizers.
We got to a whole 4 GB of ram with a fancy RAM expansion card as our record, back in the early 80's.
It was also the time when IBM told Bill Gates that you can never make money in the software business.
Little did they know!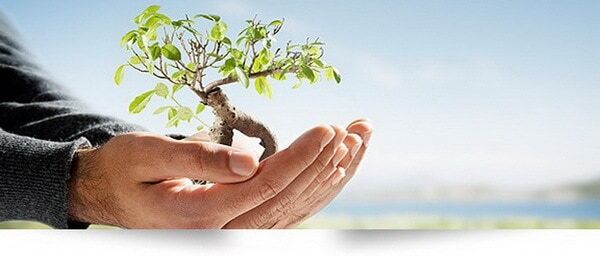 CAD has evolved over the years……
We started with CAD and then progressed to CAD / CAM.
Presently, there are numerous specific CAD applications.
CAM – Computer Aided Manufacturing
CAM (Computer Aided Manufacturing) is the art of producing an engineering drawing on a computer to be used in the manufacturing process.
CAM in manufacturing is often used in 3D printing and NC tooling.
The answer to the "What is CAD / CAM?" question is very industry specific. The following are some examples of CAD files from various industries: AEC, ME, Aero, Structural etc.
One of the examples is going all the way to a CAD / CAM tooling simulation. The copper part is the cutting tool simulating the proper path that it will take.
These examples are now all vector based computer files from different industries, but they all relate to the single task of producing an engineering drawing, or a set of drawings on your computer.
These files are intelligent and ready for updating or archival.
Some may even be turned into 3D modules for simulation.
Examples of CAD / CAM Files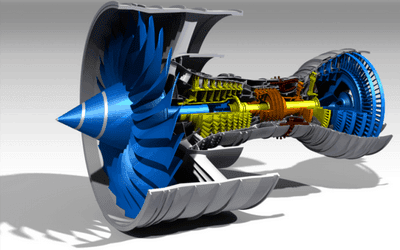 3D Jet Engine Model Rendering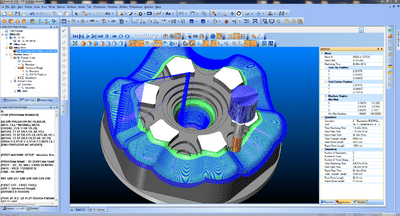 CAD / CAM Tooling Simulation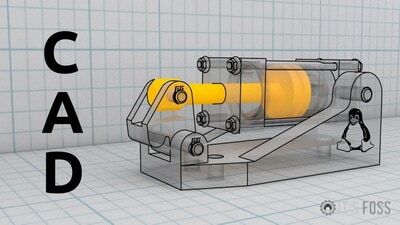 Wire Frame Example of a Shock Absorber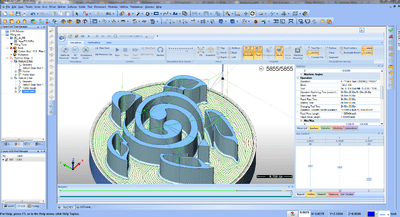 Part of an Assembly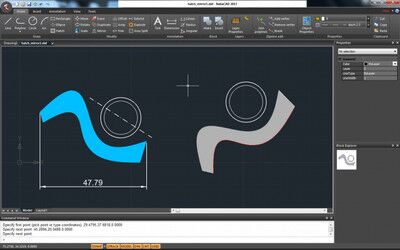 Beginning of a 3D Design
Large Commercial Campus AEC
CAD Software Packages: Brief Descriptions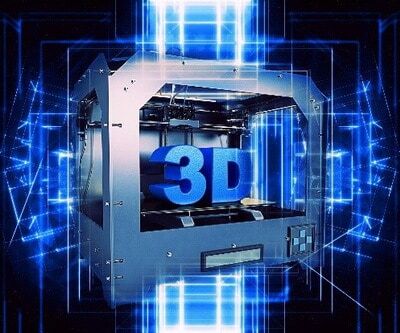 Often the CAM or MCAD part of CAD / CAM. MCAD is Mechanical CAD. These often move into the feature based approach.
That item you are designing, now has a weight, material strength, material type, restrictions of what it can or cannot be, in contact with (think of a dielectric). These are targeting much more than just a solid.
This allows us to simulate design using a reiterative design process to produce the best design, simulate its actions, and then be able to produce a valid NC product to be manufactured.
3D MODELING SOFTWARE PACKAGES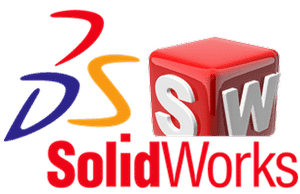 3DS – DASSAULT SYSTÈMES – SOLIDWORKS
Probably the most common 3D software product from anybody.
We consider this real 3D software for the masses.
A great production level product, which can draw 80-90% of the geometry that the top three packages can at ¼ of the cost!
At approximately $ 5-8,000 per seat, this is what we use day to day, because it doesn't have the PLM component like some of the others. Without the PML component it often makes it quicker and more efficient to use.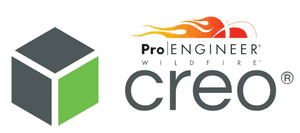 PTC focus and very complex designs, and large assembly models. PTC has also focused heavily on its PLM and PLC database side to control and monitor every part in a delivery chain. PTC focus is to optimize business functions such as manufacturing, engineering, supply chain, and services. Operating through two segments: software products and services, PTC serves in the areas of CAD, application lifecycle management, supply chain management, service lifecycle management, and PLM. The PTC product line is Arbortext, PTC Creo, PTC Integrity, PTC Mathcad, PTC Windchill, and Servigistics. PTC offers CAD through its software PTC Creo.
Often in the $ 12,000 to $ 18,000 range. Folks like BAE Systems, Orbital ATK are heavy users of PTC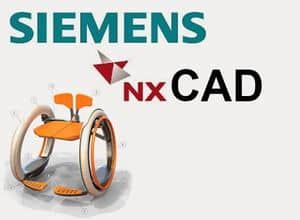 Siemens NX™ software (CAD, CAM, CAE, CMM), formerly known as Unigraphics®, had been owned by Siemens since 2007.
NX CAD provides enhanced tools and technologies for product development (design, simulation and manufacturing productivity).
NX CAD gives design teams the freedom to use the most productive approach for each specialized project.
At approx $20-30,000 per seat, it is often used in the automotive and aerospace technologies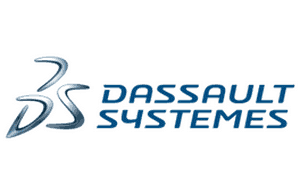 DASSAULT SYSTÈMES – CATIA AND ENOVIA
Serious high-end, feature based CAD and Product Lifestyle Management (PLM) software. The single largest CAD and CAD / CAM software company in the world (they also own Solidworks shown below). Clearly the master in feature based modeling.
If you want to model an entire aircraft design to see how it will fly, then buy CATIA. A mostly French but multinational software company, Dassault Systèmes offers many variations of its 3D software applications worldwide.
Dassault which is much more than just CATIA enable 3D design, 3D CAD, engineering, simulation, modeling, and Enovia for data management, and process management. CATIA and SOLIDWORKS are the primary CAD systems being used in the aerospace and defense sector, consumer packaged goods (CPG) and retail industries, in the sphere of life sciences, and for transport and mobility purposes. Most aerospace engineers use CATIA.
2D & 2.5 D CAD SOFTWARE PACKAGES

AutoCAD, Revit, Inventor, with many add-ons for electrical, civil, architectural, mechanical, and more.
By far the industry standard. Made in the US.
Base AutoCAD is about $3,000-$8,000.
Autodesk is moving to a yearly subscription model.
Base AutoCAD is $1,260 a year. Revit is $2,250 year.

A step up from TurboCAD. Competes with AutoCAD @ $2,000 per seat.
RealCAD has been out-marketed by AutoCAD.
They offer RealCAD Pro, RealCAD LT and RealCAD Draft.
These are just some of its popular CAD products.
These CAD solutions are some of the most affordable, intuitive and easy solutions available on the market.

An interesting, less costly approach to AutoCAD products. Their two main products are ZWCAD and SW3D.
ZWCAD is a direct head to head competitor to AutoCAD. At only $799 or $999 (pro) and it reads and writes AutoCAD*.dwg files. A great buy at 1/4 the cost, and with 900,000 users it is no longer a toy. They also have specific Architecture and Mechanical add-ons available for only a few hundred dollars. Made in China. They do not have a subscription-based model.
Their other product is SW3D which goes after the real 3D marketplace, such as Solidworks. We still prefer the industry standard of Solidworks, but at only $4,000 this is hard to beat.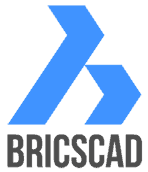 Based in Ghent, Belgium, featuring BrisCAD Platunum, BrisCAD Pro and BricsCAD Classic
Again, a heavy hitter, but you will not run into this software very often in the private sector.
Bentley Microstation basically owns the governmental marketplace. The bulk of heavy info structure products (water, sewer, telecommunication) are created in Bently products.
Bentley builds bridges, hydro plants, huge buildings, entire power plants and more.
Not cheap at $4,000-$15,000 per seat, but serious software, although a bit off standard.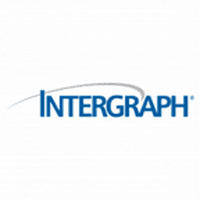 At one time, Bentley and Intergraph where one. Now they compete for many governmental products.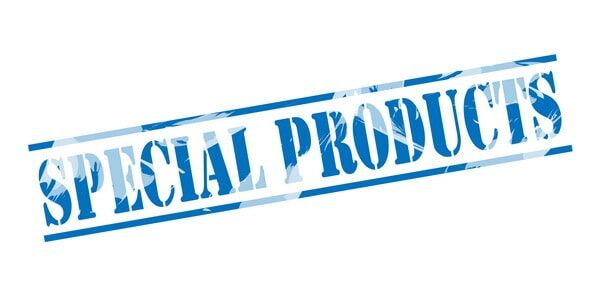 A parametric 3d CAD program, SolveSpace has applications in modeling 3D and 2D parts, 3D printed parts, preparing CAM data and is it is also used in mechanism design and plane and solid geometry. Parametric 2D/3D CAD is its primary CAD software offering.
THERE IS EVEN A WHOLE CATEGORY OF CAD SPECIALTY SOFTWARE USED FOR FACILITIES MANAGEMENT
They help answer questions like…. "If we have four offices spread throughout a region, each paying a different rent, and we just won a nice contract, where are we going to put another 75 employees?
This is a common space management facility question that some of the following software solutions can answer.
FACILITIES MANAGEMENT SOFTWARE
Dude Solutions-Asset Essentials $$
Dematic Sprocket-Sprocket CMMS for asset and maintenance $$
iOffice-Cloud based workplace management $$
Trimble-Center Stone, real estate portfolio $$$
Facility|One-Facility One $
Archibuss-Archibuss FM suite, AutoCAD based $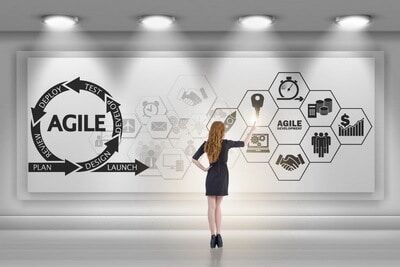 THE LATEST GENERATION OF CAD SYSTEMS WORK HEAVILY WITH PRODUCT DATA MANAGEMENT (PDM ) AND PRODUCT LIFECYCLE MANAGEMENT (PLM)..
Imagine how important it is for an automotive manufacturer to know what defective product part was manufactured by AB or C company and what cars it was actually used in. Think of the airbag recall problems we have faced in the past.
This is all a function of NX and its Team center PLM product. In an instant they can pull up the file of that specific part, see its specifications, origins and tolerances. Imagine an entire database of everything known about a specific part. Wunderbar!
There are hundreds of CAD software developers anymore. Wikipedia probably has as good of a list AS anybody.
Many of these products are very specific use CAD systems such as:
Shipbuilding – Yes, the building of huge ships.
Cell Tower – Site plan, and layout info structure
AShampoo – AEC, mostly home design
LandCAD – An old favorite or ours that we used to use. Landscape design.
Drafix Pro Landscape – Landscape design
Chief Architect – Good residential design software
DataCAD – Good AEC design software, this has matured well.
ArchiCAD – AEC with estimating.
Archibuss – Great Facility Management add on software to AutoCAD
CityCAD – Urban Design
Delcom products – Heavy use in manufacturing and tooling
Viewers
Cadex – CAD Exchanger – 3D model viewing software
CADSoftTools – ABViewer – A good 2D and 3D viewer
Along with several free viewers that work fairly well.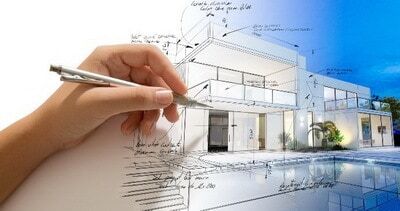 Most all CAD software support some form of at least 2.5D or mostly 3D CAD.
Consider the Architectural / Engineering / Construction marketplace (AEC). That is predominately 2.5D – which works just fine. On the other side we have developers such as IronCAD who make a very fine almost head to head competitor to Solidworks @ $ 1,200 a seat.
But today they have simply been out marketed by 3DS – Dassault Systems the owners of SolidWorks and CATIA. 2.5D is often seen in the AEC world, and 3D is often seen in the mechanical design and simulation side.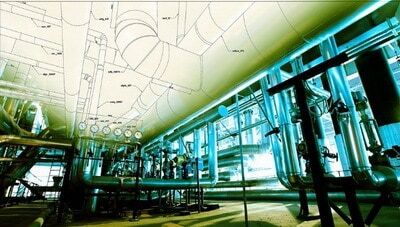 For example, it would be a huge, and hard undertaking to draw a house plan in CATIA, NX, Creo, or even Solidworks. When something for 1/5 the cost already has doors, windows, stairs and more already produced for me that I can just pop in.
Websites with Free 3D Examples

2D TO 2D CAD TRANSLATIONS
These translations are fairly easy, and pretty straight forward anymore.
IE: AutoCAD *.dwg files are used most anywhere anymore, and easy to mimic.
2.5D- Here things begin to get more interesting, but still mostly doable. Because of the efforts of https://www.opendesign.com/ – the OpenDesign Alliance, most anybody who reads and writes the *.dwg file format, uses this SDK translation engine. OpenDesign is a fine group who continues to evolve the DWG file format outside of Autodesk control.
The one tricky part of this puzzle is converting Autodesk Revit files into something else – like MicroStation. Get a professional involved at that point.
CAD SYSTEMS ARE PROPRIETARY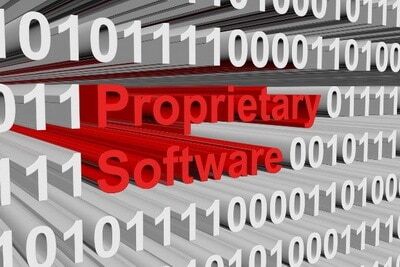 The three main players – CATIA, Creo, and NX do not like letting data get outside of their systems.
These 3 have three high-dollar $$$$ competitive systems, who have no interest in letting you move data outside of their control. They would prefer that your company be locked into their solutions forever.
Think of a Boeing or maybe a Bell Helicopter who has 30 years and millions of dollars of CATIA data. Why would CATIA want them to have any other option?
3D CAD / CAM TRANSLATIONS
These are much more sophisticated.
Two main problems emerge when translating 3D CAD data:
1.) You lose the Tree Data
2.) You lose the Features
For example, with a good 3D CAD system, we might know that at 3:28 M on Tuesday I moved that dark blow blade shaft, from here to there. As you can see by the next image, that information will be lost. In effect all of the information describing each section is lost.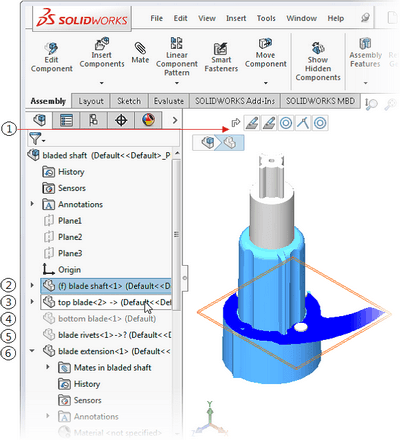 The base kernels (the 3D engine they use) for each CAD system are also extremely proprietary.
Very few 3D engines like each other, and thus makes it very hard to convert data from one to the other CAD system.
CAD SYSTEMS LIKE SOLIDWORKS, IRONCAD, AND INVENTOR ARE NOT QUITE AS DIFFICULT WITH REGARDS TO TRANSLATING DATA, BUT IT'S STILL NOT A CLEAN PROCESS.
YOU NEED TO GET THE HELP OF A PROFESSIONAL.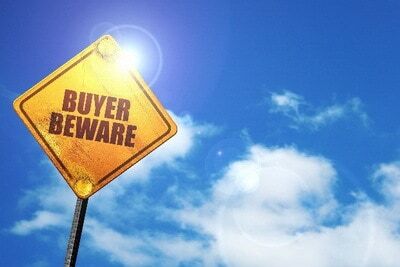 There are several translators out there but, "buyer beware" none of these really do a full conversion.
Features are lost, intelligence is lost and oftentimes data has to be fixed and healed. Sometimes data is missing entirely
n reality, for most heavy duty CAD systems, you will only be able to get a dumb model. You will not be able to edit it, but you can import the outside model in and view it.
As discussed, you will lose all of your history data and feature data.
CAD SYSTEMS ARE PROPRIETARY
As a side note, businesses who use the higher-end CAD and CAD CAM systems, often will not let their suppliers provide CAD data, unless they use that specific software. So, if a company uses only CATIA, rest assured they ONLY want NATIVE CATIA *.CATPart, *.CATProduct files, and often will not allow any translations whatsoever.
That is why over the last 30 years, CAD / CAM Services has become experts in:
CATIA V5 and now V6
PTC Creo V4 and V5
Unigraphics NX 11, 12 now 13
Solidworks 20-27 (2019)
WHAT IS THE FUTURE OF CAD / CAM?

WHAT WE CAN TELL YOU IS THIS, MOST OF THESE PRODUCTS WILL CONTINUE TO MATURE AND CONTINUE TO DEVELOP SPECIFIC USE APPLICATIONS.
Think of industrial engineering, maybe GD&T tolerancing, and much more. Right now, we are heavily involved in converting Point Cloud- 3D scanned data, into intelligent CAD data.
CAD and CAD / CAM products are becoming very mature and intelligent. Their use is only limited to your imagination.
If you can think it, you can model it!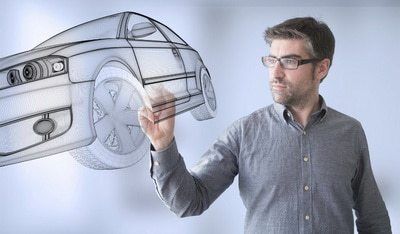 The following are some examples of the Roman Colosseum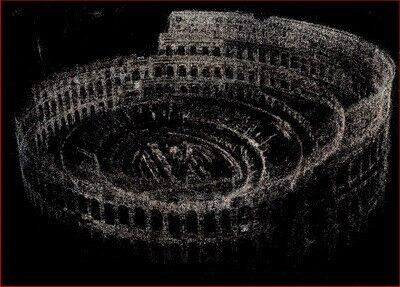 3D Scan of the Roman Colosseum / Photo curtesy of Washington Edu.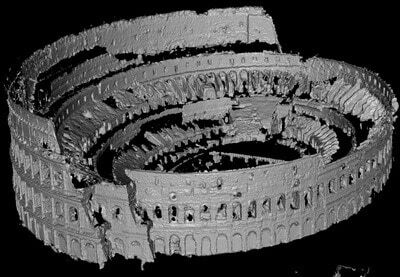 3D Rendering of the Roman Colosseum
This process is often used in Reverse Engineering, quality control, inspection and many more applications. We are nowhere close to the idea of hitting a button to create a great 3D model, but with sophisticated tools like GeoMagic ($ 20k), we are finding ways to get around some of the issues. Newer 3D printers can even print a second mesh file to create a quick prototype.
THE FUTURE OF CAD SOFTWARE
CAD software has become a highly competitive industry.
That is good news for users, with some great innovation coming our way.
Visualization of projects
Rendering
3D printing
Simulation
Prototyping
And customizing.
For example, in the medical sector, CAD software can be used to accurately visualize a problem.
How valuable will it be for a surgeon to visually see a procedure – before anything is even started on a patient?
THE NEXT TRENDS IN CAD SOFTWARE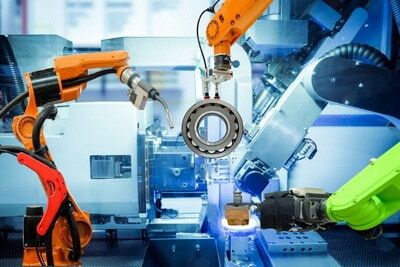 AUTOMATION AND ARTIFICIAL INTELLIGENCE
Automation is a huge problem and subject today in the CAD world.
Being able to get CAD to predict what you want to be done is that watershed moment and programmers are presently working on it.
The code programmers have already been very successful at has to do with 3D printing.
Solidworks has unveiled this automation technology: SolidWorks Xdesign. In fact, the president of Solidworks says "automation is the future of design." Autodesk has also jumped in with new tools for AI and automation. Products like their Dream Catcher allows users to work on regenerative designs – being able to generate hundreds of designs in just a few hours.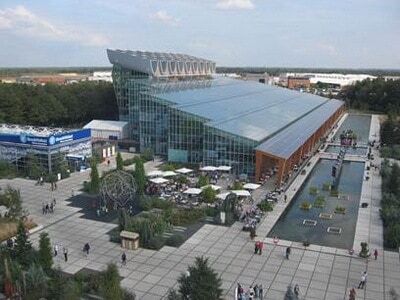 This is commonly called and sold as Software-as-a-Service or SaaS. The program resides in the cloud, not on your device.
You can be anywhere, as long as you have good internet.
One huge advantage of this approach is multiple working on the same project.
Just a couple of years ago, this was tried and given up on.
But now with 50-100 mg internet pipes becoming standard, this is now a reality.
We could talk about this forever and there is little that has not been said, but rest assured the interface you see here in Iron Man and these other examples are coming.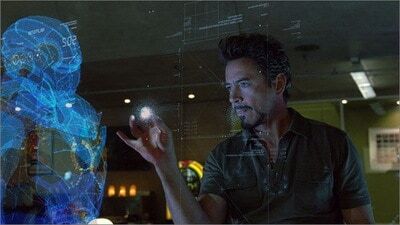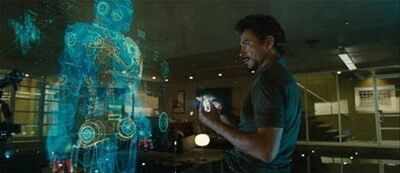 Jarvis in the movie Iron Man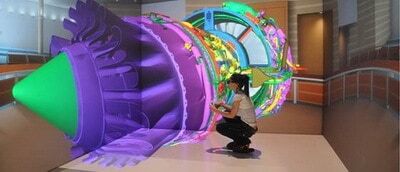 Virtual CAD Jet Engine in the Future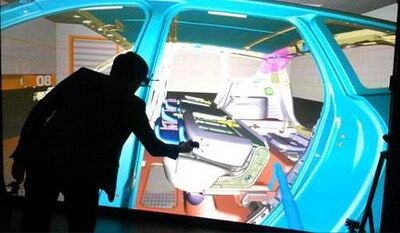 Virtual CAD Car in the Future
All major CAD systems support outside interfaces and direct programming. Starting 20 years ago with AutoCAD Lisp to now direct C++, Oracle and SQL database interfaces, there is little that cannot be tweaked anymore.
Just a couple of years ago, we at CAD / CAM Services customized SolidWorks for a large project with Amazon.
Using a fancy script, MS Excel, and Solidworks – we were able to generate more than 1,000 3D drawings per day.
If that was not enough, we were also able to generate from these 1,000+ 3D drawings an additional seven versions of this same file – anything from 2D drawings to 2D and 3D PDF files.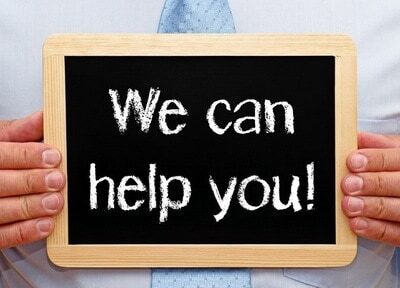 We Specialize in all things CAD!
Questions? Call Us!
We encourage you to see some of our samples at https://www.cadcam.org/model-gallery/
Or keep up with the world of CAD and CAD / CAM, please visit https://www.cadcam.org/blog-new/
CAD / CAM Services can help with your 3D Modeling Project
1-800-938-SCAN (7226) or 1-972-382-3021
CAD / CAM Services your experts in CAD Perfect™ CAD Services!
*Pictures and trademarks owned by their respective companies.