Professional CAD Solutions for Aerospace Industry
Although we can handle tasks in any field of industry, our CAD work for the aerospace industry makes us proud the most. We have a lot of experience with aerospace design projects.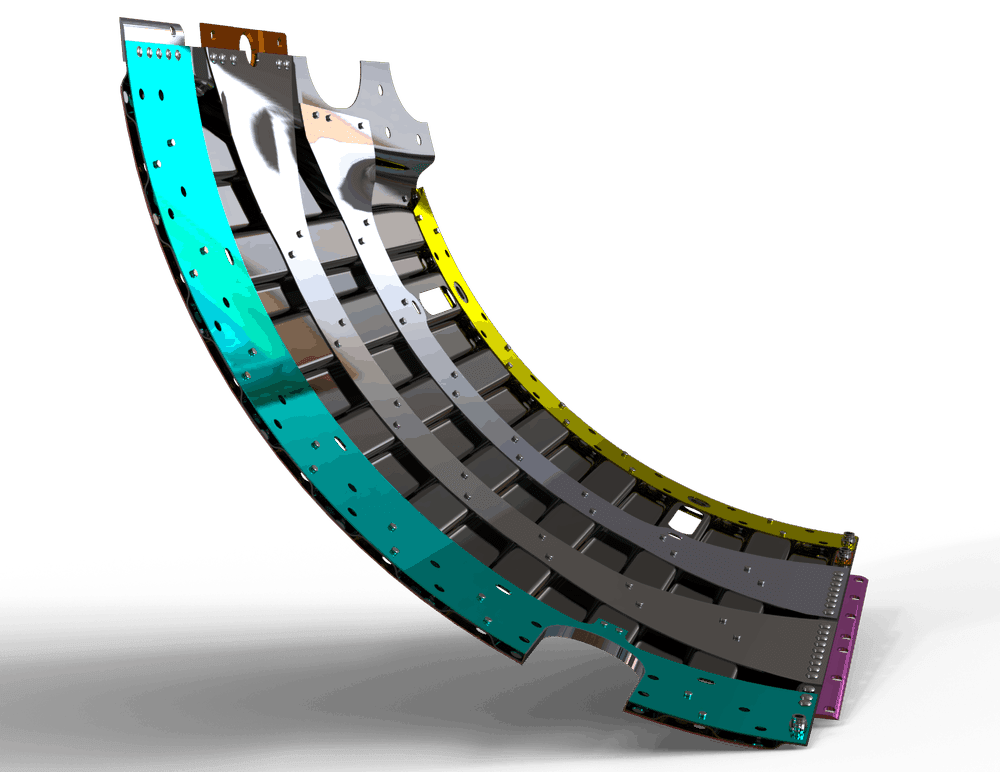 You can take advantage of our years of practical experience in the full scanning of aircraft design, producing mesh models, and all the way through to full very accurate 3D CAD assemblies in CATIA, Siemens NX, Creo, and Solidworks.
Our Aerospace CAD Services
You can do anything concerning aerospace analysis, design and drafting with us. Our professional engineering team can help you with:
Our client list includes Bell Helicopter, GE Aviation, Airbus France, Boeing, and the Navy (NAVSEA) just to name a few.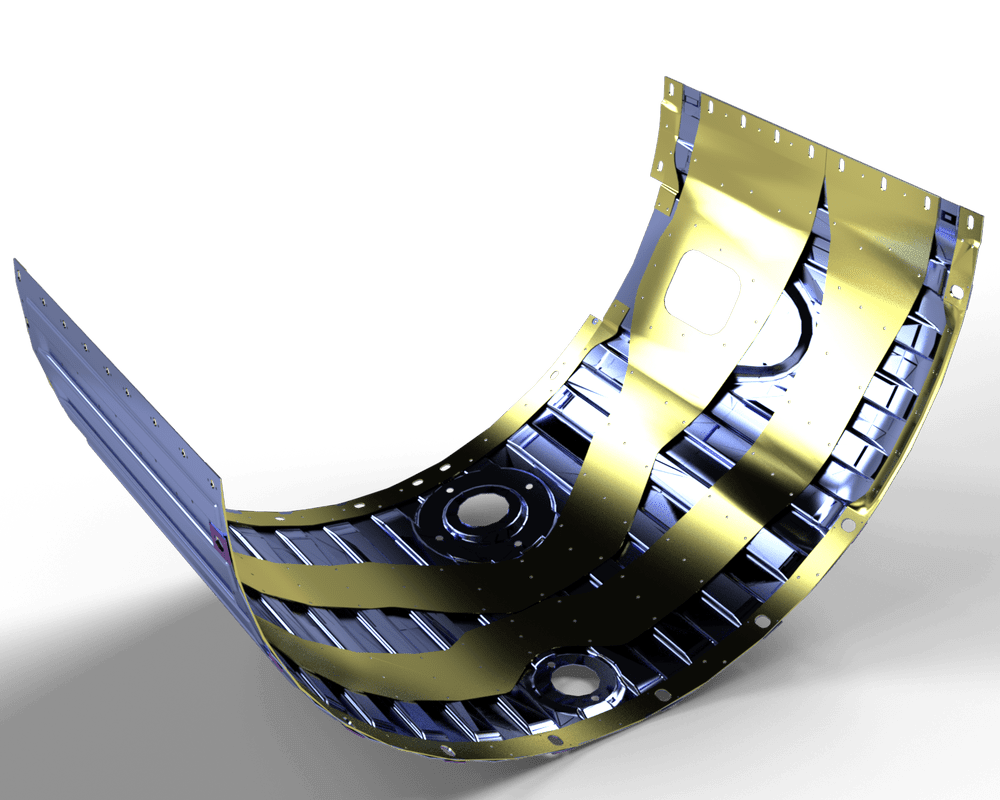 Aeronautical and astronautical design projects usually contain sheet metal design parts and assemblies.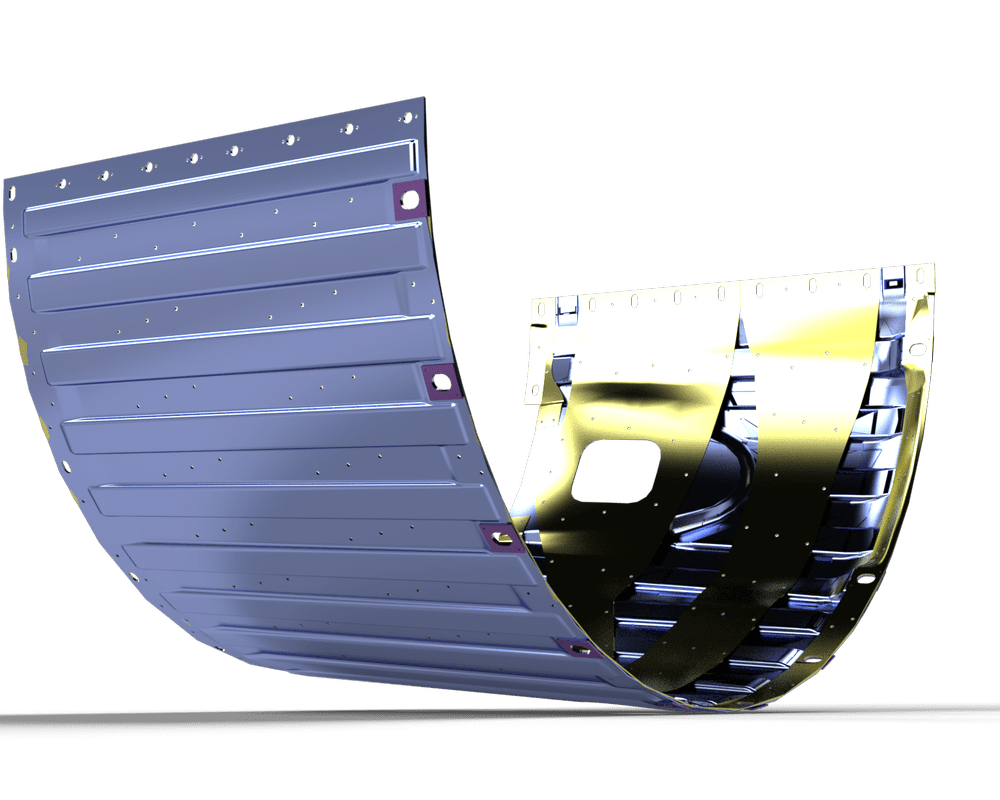 Your 20-foot mylars (J size) dwgs can be converted to both 2D and 3D assembly models in CATIA, all good to within ± .005″ accuracy.
Aerospace Engineering Design Projects
We have a significant number of CAD aerospace engineering projects we have participated in. Some examples include:
We have worked with Bell Helicopter throughout the years, mostly with their military industry division. Several times we have been called in to convert their hard copy mylars, into CATPART and CATPRODUCT files.

One of our latest Aerospace projects has been with GE Aviation, working on a new generation of jet engines. This was done in Unigraphics NX and we pushed the limits of NX for everything it was worth. GE Aviation supplied their own point cloud data along with some additional technical illustration data.

Our job was to model the accuracy of this point cloud data in NX. The outcome of this project was a very successful NX development of the next generation of GE's jet engines.

For Airbus in France, we worked on a project with Rolls Royce engines, that dealt with improving one of their existing engines. In this case, the mylars were already scanned and we got the raw images of which we produced both 2D and 3D CATIA files. This was for the Airbus A400 military project.

Boeing needed a complete wing redesign for the 747-8 and 747-9 program. The job had to be done with extreme accuracy, but long Mylars changed size the second they leave the temperature and humidity-controlled printing vault in Everett Washington. This created a huge problem for accuracy.

Boeings' mylars were 30+ years old and each mylar could be off by an inch or more, on any x or y plane.

Serving both Boeing and Triumph – Voight Aerospace, our company was able to solve their Mylar-to-CAD conversion problem.
CAD/CAM Services successfully engineered an approach to convert thousands of their hard copy mylars into accurate CAD files.
Our Experience with the United States Air Force
Our Mylar digitizing process proved to be so successful that the United States Air Force hired CAD/CAM Services to obsolete their entire hard copy of Mylar airplane collection.
We scanned and calibrated an excess of 70,000 hard copy mylars, which we then digitized to within ±.005″.
As a result of our process, the new electronic files are now the masters for Tinkers Air Force Base.
It was a major success story to receive the official United States Air Force certified letter letting us know that our electronic files were their new masters.
CAD / CAM Services is ITAR registered, and we have also worked on several classified weapons programs for the Navy with NAVSEA. Take advantage of our proficiency with CATIA and Creo to develop 3D models for your specific projects.
We Can Help Your Aerospace Organization
Concentrate on research and development. Let us help you with your aerospace design project.
Digitizing Services FAQ
What is the accuracy of your digitizing process?
We are proud to announce that we create digitized copies of old non-dimensioned drawings within the Aerospace ±.005" accuracy requirement.
This is exactly the process we have used on several iterations of the 767-8, 300, and 300F. We would be required to scan 200-300 J-size Mylars, and with zero reference points, and no dimensions. Our next step was to create via FreeForm designs in Catia the 767 wings. All of which was then certified by Boeing.
How can I get a valid CAD model from my old Mylar?
Yes. We have accurately converted old Mylars into 2D and 3D CAD files for 20 years.
We start with a very good raster scan, generally on Contex 54" or the new 60" scanners. In addition, we can often work with existing scans that you might have.
After that, we have to adjust the raster image to fit independently in each 5" or10" grid. Each of the four corners of each grid has to be independently moved and calibrated.This is a tricky, manual, and a proprietary process. But at this point, that Mylar image is back to the original spec. This is exactly what we did for the Air Force. Over 70,000 J-size Mylars were scanned and calibrated. Now our corrected and calibrated images are the Air Force standard – not the Mylars.
When you import it to your CAD software we make sure that the image is appropriately scaled, calibrated, and truly horizontal and vertical.
What is a "Calibrated" Mylar image?
Mylar films can be stored in climate-controlled facilities. However, films get skewed and change sizes over time – ironically not linear. So what changes on one end, does not apply to what is in the middle, or the other end. We have seen 'J' size Aerospace Mylars (about 48×180"), vary by a full inch.
CAD/CAM Services utilizes a proprietary process to make Mylar raster images dead on a 5" or 10" grid. Our process was developed in conjunction with, and approved by Boeing engineers.
What is DHS – Critical Infrastructure Products
The Department of Homeland Security protocol PPD-21 requirement has deemed that sixteen (16) industries and services are critical to our US Nations security.
These industries require additional security protocols when creating CAD files. CAD / CAM Services follows all of these requirements. Think of industries and info structures such as power, water, along with fourteen (14) other industries. For a full list please see Critical Infrastructure Products.
Do you support BIM modeling?
Using Revit, yes we do. Think of BIM as an intelligent 3D model of your building. We know exactly where all of the HVAC is, IT cabling, electrical, the cost of doors and windows, when mechanical systems need to be serviced, all the way to a room number with a phone number and IP in that room. In addition to our Ray Tracing technology to support some very life-like photo renderings.
Creating models and drawings over scanned analog documents seem so easy – why such a low price?
In order to make an accurate representation, you have to calibrate the original drawing, which may have deformed during its storage period. Non-dimensioned mediums need to be thoroughly calibrated before digitizing.
Parts of scanned data may be lost due to time and other factors. Because it is important to recreate the design intent, we need to recreate lost data.
You ONLY receive Cad Perfect™ files – as if you had drawn these by hand.
What is the average raster to vector (R2V) 2-D conversion price?
The typical AEC D & E size sheet is $135. There are possible discounts depending on the job size. The more you convert the less you pay. The bulk of the files we produce are for AutoCAD.
3D Modeling FAQ
What is the minimum price for your 3D modeling services?
We have a minimum order fee $150.
How do you check your models?
We create 2D drawings from our 3D models for QC purposes. We follow aerospace standards and deliver ±.005" accuracy models for all projects. All of our QC is done by a different person than the designer. On Catia work, we often use Q-Checker for Airbus.
What do you need to give me accurate pricing?
First of all, we need to know the target CAD system and whether you have an existing template, or set of CAD standards for this project.
The main question is the overall complexity. As each part and assembly consists of different features and elements the best way is to provide us with an example. Again, a picture is worth a thousand words.
If you already have a model and need us to improve it or update it in any way we need to know which dimensions and features are critical and which can be modified to achieve your desired result. Even a before and after example works very well. We started with x, and got to this CAD file.
We can also offer you better options if you provide us with the purpose of your project (demonstration, 3D printing, FEA Simulation, CNC manufacturing, etc.). This helps us better refine the task.
How do you bill 3D CAD services tasks?
Per hour. Hourly rate depends on what CAD software used and typically starts at $75 per hour. In general, to make this process safer for you, we often provide you a fixed not to exceed the cost as well. That way, you are protected from an open-ended PO. However, the reality is our fees are based on time. In addition, services in say Catia or NX are more expensive than say Solidworks. Or, simulation services are commonly done by real engineers.
CAD Conversion FAQ
There are special CAD translator software packages available on the market, why should I pay you guys?
It is better to ask the following question:
What can you do that a software translator cannot do?
Verify files.
Update files
Fix files
Convert the CAD data to native intelligent CAD data with full feature trees.
Update data to the current CAD standards.
Work in the native PLM systems.
Correctly write scripts for this process as needed.
My company wants to change the focus of our CAD systems, is it possible to do this with your help?
Of course, we offer CAD migration services. If you want all the Cad Perfect™ files to comply with your updated company standard, just send us the guidelines and we will make Cad Perfect™ files which are perfect for you!
I have some exotic files nobody knows even how to open. Can you help me even in this case?
Yes, we performed successful conversions from many local or exotic and ancient CAD systems. You can continue the development of old projects in modern software with our help.
I have some weird CAD files from the previous century, can you help me?
Yes, absolutely. We can perform legacy CAD conversions. Just send us some example files, and what CAD system we need to wind up in, and let us design the best solution for you.We have worked with old Computer Vision tapes, Anvil, and many other 1980's systems.
Which CAD systems do you work with?
We support all the modern CAD systems including SolidWorks, Catia, Siemens NX, PTC Creo, Inventor, Revit, AutoCAD, and many others.
Which CAD file formats do you work with?
All the CAD file formats are listed on this page but bear in mind that we also work with exotic and legacy CAD systems. After 31 years of providing CAD Services, we have run into almost any CAD file format.
What do I get?
You get native Cad Perfect™ files with the full-featured model tree (where applicable, since some file types have no trees), and features can be fully parametric. It all depends on your goals. We prefer to not translate any files. Our goal is to deliver to you a file that you do not have to touch. Our work is exactly as if you had reproduced that work in-house.
What do you need to provide me with an accurate quote?
We need to know source CAD and target CAD software. Since large quantity orders can be discounted by us you can provide us with the number of parts you need to be converted.
If you tell us the desired purpose of the conversion we can offer you some conversion options. We can also convert your files into vendor-neutral file types (.STEP, .STL, etc,).
Please email us even cell phone photos, and the rough size of what you wish scanned and converted [email protected].