Custom 3D Printing Services
We Provide Quality Custom 3D Printing Services.
We specialize in online, on-demand, custom 3D Printing Services, including Rapid Prototype Printing, including 3D Printing for Prototyping, for Rapid Prototyping, and for Production Parts in Plastic and Metal. For your next 3D printing project, contact CAD/CAM services.
3D Printing by definition
3D printing includes various processes in which material are joined or solidified under computer control in order to create a three-dimensional object, with the material being added together. 3D printing is used in both rapid prototyping and in additive manufacturing.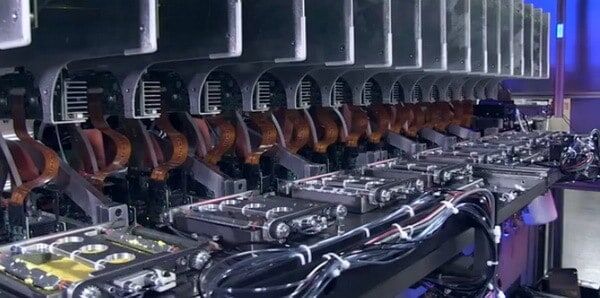 3D printers come in many different sizes
3D printers come in many different sizes and use many different technologies. They can print in many different materials ranging from plastic polymers to various powdered metals. New ideas for different materials and updated printers are constantly being developed.
Industries rely on using 3D printing companies.
The use of 3D printer services has advanced many areas of manufacturing; fashion, architecture, aerospace and even the candy industry.
From the 3D printing of food, to that of living tissues, the possibilities seem to be endless for this technology.
The Popularity of Additive Manufacturing has increased
The popularity of 3D printing (also known as Additive Manufacturing) has rapidly increased over the past three to five years. Most people do not realize that the process of 3D printing actually goes back almost 40 years.
3D Printing process creates three-dimensional solid objects
3D printers were developed in the 1980's. It is a process used to make three-dimensional solid objects, thus creating parts one layer of material at a time. it is formed by using computer numerical control (CNC). After one layer is created, then a subsequent layer is printed on top of it and the layers are then fused together. This entire process is repeated until the part has been printed in its entirety.
We've made our custom 3D printing services easy, with a simple, straighfoward ordering process…
Drag and drop your *.stl file
Browse varies materials and type
Create your account
Place the order
3D Printing technologies offer large variety of materials and technologies which make production of small to medium volumes much more affordable than common production methods. You do need to prepare construction line for production of your new design, manufacture casting patterns and produce excessive production documentation. All you need is 3D model of your design. It is widely used in large variety of industries, including prototyping, souvenir and merchandise production, medical engineering. We offer FDM, SLA/DLP, SLS, Material Jetting, DMLS/SLM and Binder Jetting 3D printing.
WHAT DO ALL OF THESE ACRONYMS MEAN?
FDM
Fused Deposition Modeling (FDM) or Fused Filament Fabrication (FFF)
FDM is the most popular and available 3D printing process and is mainly used for lower-priced prototyping and design verification with very fast turn times.
FDM or filament deposition manufacturing is the most common type of rapid prototyping technologies.
Materials are supplied in the form of filaments which are melted into thin threads which are deposited layer by layer firmly fusing with each other.
Infill percentage can be adjusted, so resulting parts can have variety of densities.
It is not recommended to machine FDM produced parts.
It has some geometrical restrictions as due to influence of gravity as supportive material needs to be added to bridges and hanging regions of parts produced this way.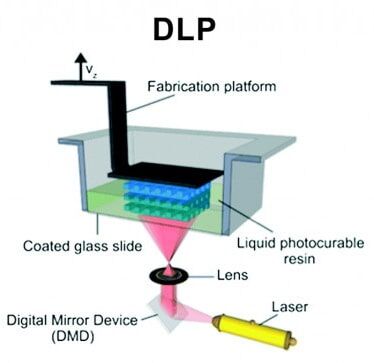 SLA/DLP
SLA/DLP or stereolitography is a method where photo-polymerizing material is solidified with the help of the DLP projector layer by layer.
Parts are usually produced bottom up and also have geometrical limitations.
This technology is more expensive than FDM, but it makes it possible to machine parts acquired this way.
SLA mostly suitable for visual applications where an injection mold-like, smooth surface finish, and a high level of feature details are required.
Digital Light Processing (DLP)
Digital Light Processing (DLP) is similar to stereolithography.
It works with the same photopolymers.
The biggest difference is the light source.
DLP uses a more conventional light source, such as an arc lamp with a liquid crystal display panel.
This is applied to the entire surface of the vat of photopolymer resin in a single pass, generally making it faster than SLA.
Stereolithography (SLA)
Stereolithography (SLA) was invented in 1983. This process uses the oldest type of 3D printers.
It is known for its fast prototyping, ability to produce intricate models, patterns, prototypes and various production parts.
This process converts liquid photopolymer resin (a special type of plastic) into solid 3D objects.
This is accomplished by curing the resin with a laser, one layer at a time.
Selective Laser Sintering (SLS)
SLS or selective laser sintering materials are supplied in powdered forms. During manufacturing process these powders are fused by a pulsed laser beam.
This allows creation of durable parts with complicated geometries and can be used to obtain early prototypes, wind tunnel models or casting patterns.
Resulting parts have porous surfaces, but this can be fixed with finishing if needed.
SLS is rather expensive, as it is necessary to maintain strict temperatures throughout fabrication phases.
SLS is used for prototyping and small batch production of functional plastic parts with good mechanical properties.
We've made the ordering process easy…
Drag and drop your *.stl file
Browse varies materials and type
Create your account
Place the order
DMLS/SLM
DMLS/SLM or direct metal laser sintering differs from SLS mostly by ability to control the porous properties of produced parts as material is not burning fused but rather melted into homogeneous structures.
SMLS/SLM produces high performance, end-use metal 3D printed parts for applications in aerospace, automotive, industrial and medical.
Selective Laser Melting (SLM)
Selective Laser Melting (SLM) uses a laser to scan and selectively fuse metal powder particles, bonding them together layer-by-layer.
Material Jetting
Material Jetting involves condensation of liquefied material on the base surface.
Such materials include waxes or photo-polymerizing compounds.
Material Jetting produces parts of highest dimensional accuracy with very smooth surface finishes, and it is used for both visual prototypes and tooling manufacturing.
Binder Jetting
Binder Jetting involves condensation of powdered material in the bath by addition of liquefied binder material.
Parts produced this way are porous and require finishing and post-processing in most cases.
Binder Jetting is most commonly used for full-color parts, low cost metal printing and large sand casting molds.
Call: CAD/CAM Services 1-800-938-SCAN (7226)
WHICH MATERIAL SHOULD I PICK?
PLA is the most popular and cost effective material. It is bio-compatible and eco-friendly as it is produced from such sources as corn and sugar cane. Low price makes it widely used in prototyping and souvenir production while ability to completely degrade in human body in 6 to 24 months renders this plastic perfect for body implant production.
HOW AND WHEN CAN I GET MY ORDER?
We offer three different print facilities located at:
San Diego, CA
Los Angeles, CA
Dallas, TX
We can produce more than 2,000 parts per week. Our completely autonomous production line will work to fulfill your order 24/7. Robots do not have lunch breaks or holidays! All processed orders can be delivered to you or your customer in over 100 countries. We use FedX, UPS and DHL.
If you upload your design now, we can start processing your order right away!
We've made the ordering process easy…
Drag and drop your *.stl file
Browse varies materials and type
Create your account
Place the order
Here are just a few ways that 3D printers are being used today:
Healthcare
3D printing has been used to make medical equipment along with prosthetics. The 3D printing of prosthetics offers a much lower cost to the patient and is more cost effective to traditional methods.
The ultimate aim of medical 3D printing is to create replacement organs for human patients, but this is just one potential application. Though additive manufacturing for healthcare is still a work in progress, it is already being used today.
Automotive
Currently 3D printing is being developed to radically transform the manufacturing of vehicles.
An electric car developed by Local Motors, known as Strati, was the world's first 3D printed vehicle. One Srati was actually printed in 44 hours during an International manufacturing technology show held in Chicago.
The advances made by Local Motors has influenced other automotive companies to use 3D printing technologies.
Education
The introduction of STEM curriculum (science, technology, engineering and math) in the classroom has been given a huge edge with the addition of 3D printers.
Students enrolled in a various subjects now have the ability to print out prototypes by using creativity and problem solving techniques.
Innovative teachers are consistently finding new ways to incorporate 3D printing in their classrooms.
Aerospace Industry
A growing number of leading manufacturers of airframes, engines and components, among them Boeing, GE (General Electric) Aviation, Lockheed Martin, Airbus and BAE Systems, are now using AM to produce complex aircraft and spacecraft parts not only from plastic but also metal.
GE, which is already the world's largest user of 3D printing technologies in metals, expects to have manufactured 100 000 cobalt chrome fuel nozzles for jet engines using 3D printing by 2020.
From airplanes to space vehicles, AM has significantly contributed to the inner workings and cosmetic interiors of a variety of aircraft.
Additive Manufacturing
3D printing for low volume batch production is increasingly an option to bring a product to market, and analysis of trends in additive manufacturing for end use production estimate approximately one-third of 3D printers are used for production.
Additive Manufacturing (AM) is an appropriate name to describe the technologies that build 3D objects by adding layer-upon-layer of material, whether the material is plastic, metal, concrete or one day…..human tissue.
The term AM encompasses many technologies including subsets like 3D Printing, Rapid Prototyping (RP), Direct Digital Manufacturing (DDM), layered manufacturing and additive fabrication.
Call: CAD/CAM Services 1-800-938-SCAN (7226)
Every industry, to some capacity has been influenced by 3D printing.
Many companies have been using 3D printing for quite some time now. The technology has advanced to the point where it is becoming a viable manufacturing process, capable of producing production quality parts.
Variety of materials and various printing process options have made this a very viable solution for additive manufacturing.
The automotive and aerospace industries carry the highest potential for the implementation of additive manufacturing.
Honda uses 3D Printing for Custom Accessories
Honda Access, is a division of the Tokyo-based automaker, that specializes in custom accessories.
They recently embraced 3D printing to satisfy customer demand and streamline the building of prototypes.
Similar to aircraft manufacturer Airbus, the company purchased technology from Stratasys, a firm that specializes in the manufacturer of 3D printers.
It is forecast that nearly half (49%) of automotive companies will use 3D printing to directly manufacture car parts.
This process will allow them to address the challenges such as a demand for increased customization, continued improvement, and lightweight components.
3D Printing Addresses Quality Issues
3D Printing will also give the automotive and aerospace industry the ability to address quality problems much quicker than is currently possible.
It has been reported that with the high demand of 3D printer's, shipments increased by 108% globally between 2015 and 2016.
This resulted in 456,000 units shipped.
It is expected that by 2020 this number will be at 6.7 million units.
With constant advancements in technology and new products at every price point, it's easy to say that 3D printing will be here for a very long time to come..
Design Your Parts with Our Experts
Whether you have one part, or 10,000 rush parts, we're here to provide outstanding custom 3D printing services. We do professional industrial printing. Use our technical expertise.
Scaled for manufacturing large and small – 1 – 10,000
We drop ship to over 100 countries – we use UPS, FedX and DHL
Rapid Prototyping – creating functional prototypes or concepts in days.
Additive Manufacturing – creating models for medical all the way to ECS ducts for Aerospace.
Manufacturing Tooling – we create composite tools, jigs, forming tools for the shop floor.
and product development – just being to touch and feel your design can be everything.
We've made the ordering process easy…
Drag and drop your *.stl file
Browse varies materials and type
Create your account
Place the order
Do you need 2,000 parts in a week? Call us. We have delivered 5 and 10,000 part jobs on-time and on budget. With production facilities in San Diego, Los Angles, and Dallas; we can accomadate most of your printing needs.
Our years of developing our proprietary process and technologies, allows us to leverage fully automated 3D printing methods. Thus consistantly producing accurate and affordable prototypes all the way to large production runs.
Do you need FDM printing? We can provide that. Materials of ABS, FllaFlex, PC, PLA, TPU, or how about POM (Deirin)? We can provide those options. What color would you like? We can provide any color you wish.
How many do you need? We can provide as many as you want. A quantity discount? Ask us about our quantity discounts. Does price include shipping? Our pricing will include shipping.
Need to adjust the height? The shell? Or the Infill? We can do that.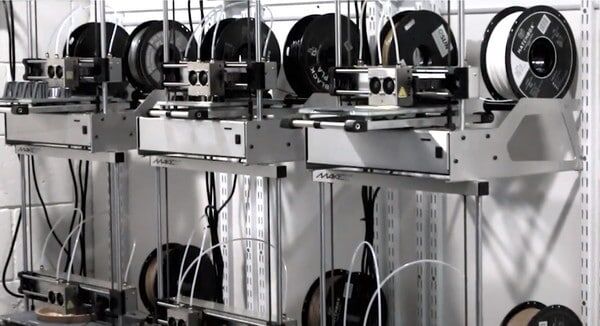 Why Choose CAD/CAM Services over other Service Bureaus:
Why choose us for custom 3D printing services? First, many of our printers are from Uniz and include UDP. This is important because this UDP machine can print continuously, and in one motion, rather than the traditional SLA machines that need to go up and down to cure each layer. The UDP is similar to the Carbon CLIP technology in that sense. It's unbelievably fast and ultra high resolution (<0.025 mircon).
Second we offer three different print facilities for customized 3D printing: San Diego, CA – Los Angeles, CA – and Dallas, TX. With our customized and proprietary hardware and software, we can simultaneously run and control ALL printers at once. Yes, we can actually control an entire fleet of 100 plus printers, in three locations, with different brands, and limitations all at once. Thus all acting as one large single print shop.
And lastly, our automatic feed ejector we have on all of our devices allows us to continuously print 24 hours a day – uninterrupted and without user intervention if needed. There is no need for one of our operators to touch a printer during a heavy production run.
Do you want the fastest possible turnaround time? We can handle it – we are ready and optimized for this.
Do you want the most cost effective approach? Call us: 1-800-938-SCAN (7226)
Our faster printing turnaround, expertise and technical investment will allow us to produce a more cost effective part for you.
We often print in Resin, PLA, Nylon, ABS, PET, Flexible materials, nylon blends and Carbon Fiber blends.
Material Cost Information:
PLA is easiest to use, and most cost efficient to produce.
PET is often used when you need a stronger material and/or higher temputure material.
We often don't use MJF because or increased production costs of almost 50%.
Of course most any form of metal printing is the slowest to produce and the most expensive.
All the way to Inconel 718. Inconel 719 is a hardenable nickel-chromium alloy containing also significant amounts of iron, niobium, and molybdenum along with lesser amounts of aluminum and titanium. It combines corrosion resistance and high strength with outstanding weldability including resistance to postweld cracking.
Call: CAD/CAM Services 1-800-938-SCAN (7226)
We configure your 3D print orders in a large variety of materials that will suit your application requirements with fast turn pick-up options.
Our additive manufacturing production experts can guide you as your scale from prototype to large volume production. Our production automation platform provides the most cost effective 3D printing automation solution anywhere.
Will not miss deadlines due to lacking production capacity. Our network of printers provides an instant boost in production capacity around the clock. Close critical projects on time.
Professional – Commercial – Industrial Grade 3D Printers
For (1 – 20,000) parts
Automated – Additive Manufacturing Solutions
HP Fusion for Full 3D Color Printing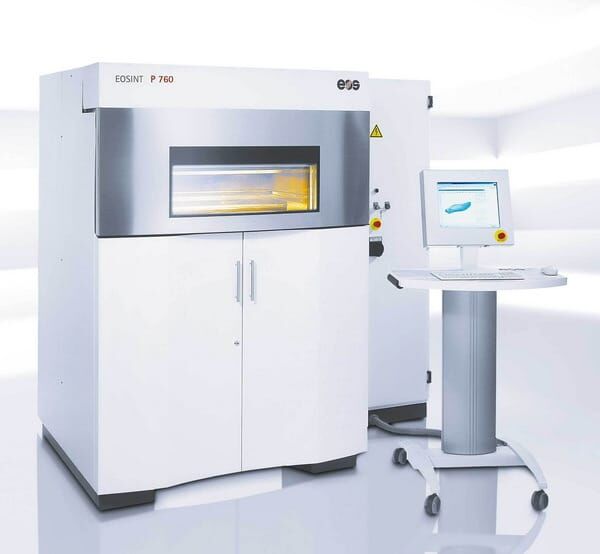 Stratasys for Complex 3D Part Scanning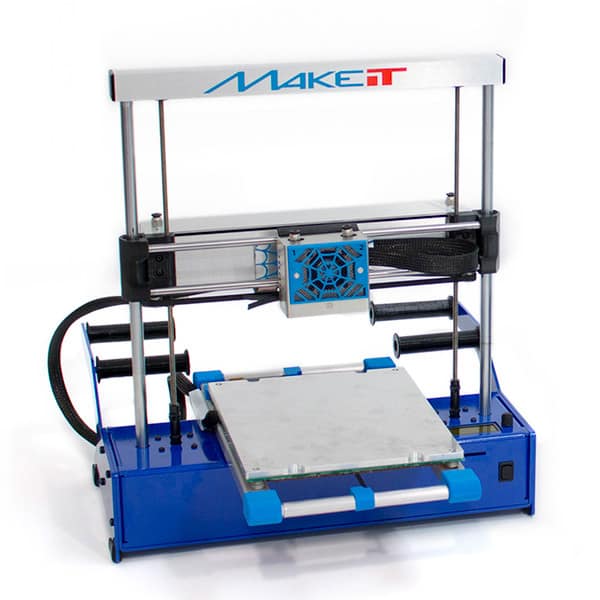 Makeit Pro for Additive Manufacturing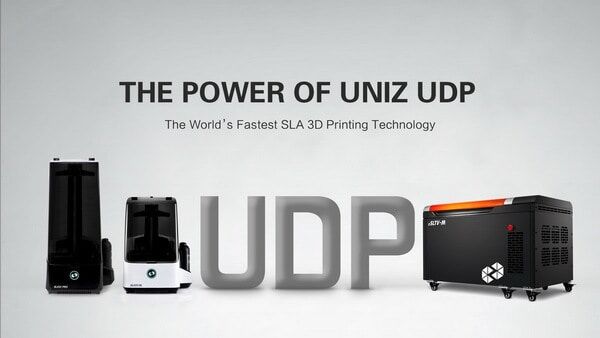 The Power of Uniz UDP for 3D Printing
Call: CAD/CAM Services 1-800-938-SCAN (7226)