We've talked to a lot of companies who have paper maps in a backroom that can't do anything. Without a 2D or 3D vector image of your map, data like boundaries and roads can't be digitized, shared, or used in a GIS. This is why so many people rely on our experts to convert their paper maps to 2D vector files.
In this guide, we'll teach you how to convert a paper map. We'll also include some challenges that you might face.
What Is a Raster to Vector Conversion?
When you scan a paper map and digitize it, you'll be left with a pdf or some type of image file. Although you can import this file into your CAD program of choice, there is a big problem: you're working with a raster.
A raster is just a collection of pixels and dots that don't have any information besides a color and position. Any type of CAD program needs a vector in order to modify, update, or extrude a drawing.
A vector is a line that has direction, length, and position. With four vectors, you can make a 2D square then extrude it into a 3D cube. With a raster image of a square, your CAD program can't do anything.
This is why raster to vector conversions are so important. Basically, an expert redraws your file and creates a usable CAD model from raster images of your paper map.
If you're looking to upload your map into a Geographical Information System (GIS), then you definitely need a vector image. It's the industry standard file type for maps in GIS.
How to Convert a Map from Raster to Vector
Converting a map from a raster image to a vector drawing sounds simple enough, but there are a lot of potential pitfalls. In general, it involves drawing over a raster image in CAD with lines and polygons. If the raster image features a square of pixels, a raster to vector conversion engineer will draw a square of vectors over the pixels.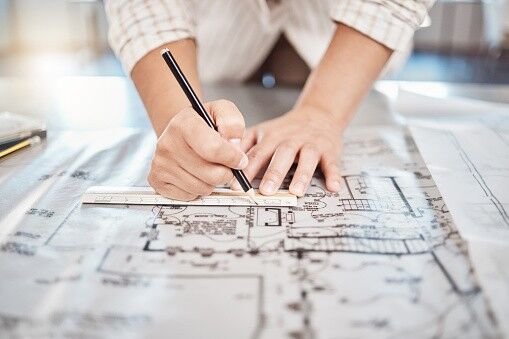 Some Challenges in Raster to Vector Conversion
Even though the process sounds simple, there are a lot of challenges to keep in mind.
The process can take a while. For larger maps, you might spend days putting together a vector file. With an inexperienced CAD user, this process becomes even more painful.

It takes a lot of attention to detail. You'll quickly learn how much attention goes into converting a map from a raster image to a vector file. Every single line, curve, and shape needs to be meticulously copied over to the CAD file by-hand. There's no shortcut to complete this.

The slightest gap between vectors makes the map useless. For most vector maps, you need to make sure all of the drawn loops are closed, or else the GIS can't translate the information. This means that the slightest gap between drawn lines could make your map useless, and it's very hard to track down where the small gaps are.

You need a high-quality scan to start with. Without a high-quality scan, artifacts in your raster image will make your job a lot harder. Our team at CAD/CAM Services suggests using a Contex scanner so you can start with a high-quality raster image.
You Can Outsource Your Paper Map Conversion
If all of this seems overwhelming, don't worry — you can outsource your paper map conversion project. Our engineers at CAD/CAM Services have done millions of raster to vector conversions over the past decades, and we can help with yours.
Whether you need one or one thousand maps converted into a vector image, we can handle it. Leverage our highly-trained 24/7 staff to get the fastest and highest-quality results.
Conclusion
As you just learned, converting from a paper map to a 2D CAD file is not as hard as you might have thought, if you outsource the work. If you outsource the project to our team at CAD/CAM Services, you will save time and money while avoiding a ton of headaches. Get a free quote today.
This article was last Updated on June 15, 2023