Looking for the best CAD outsourced company to work with is like finding a needle in a haystack. So many outsourcing companies aren't prepared to handle complicated or large projects, but they'll trick you into thinking otherwise. Plus, a large majority of these companies can overcharge you and underdeliver.
To save you time and money on your next outsourced CAD project, follow this guide. Our experts will teach you 8 qualities to look for in a CAD outsourced company.
What Is a CAD Outsourced Company?
A CAD outsourcing company is a business that handles some or all of your CAD work. They typically have a team of trained engineers and draftsmen who can tackle 2D and 3D CAD work. You would reach out to their team and determine what amount of work you'd like them to handle, then it's their responsibility to deliver finished 2D or 3D CAD drawings that you'll use in your projects.
8 Qualities to Look for in a CAD Outsourced Company
There are a lot of different outsourcing CAD companies on the market, so how are you supposed to pick the best one? Well, here are 8 qualities that the best CAD outsourced company will have. Look for these qualities are you're vetting the company you want to work with.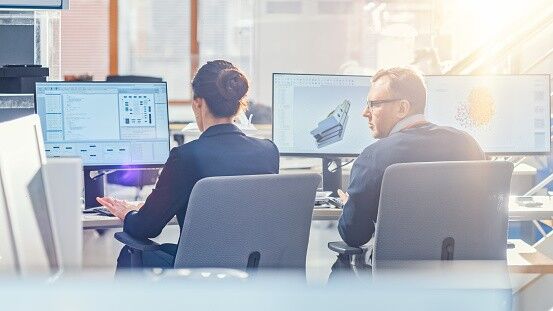 A pair of outsourced 3D CAD engineers make complicated models as part of a customer's equipment upgrade.
A Strong Team of Engineers and Draftsmen
An outsourcing company is nothing if they don't have a team of really strong engineers and draftsmen. After all, this team would be solely responsible for all of the CAD work that you give them.
A small outsourcing company won't have the manpower to tackle your project. This can result in longer lead times and higher quoted pricing as a result.
Plenty of Experience Across the Team
What makes a team of engineers "strong"? Experience. You should only work for highly experienced CAD outsourced companies. Having decades of experience will ensure all of your drawings are perfect.
Industry-specific experience in your company's industry is important, too. If you're an aerospace company designing a new aircraft, the company you outsource the design to will definitely need plenty of aerospace experience.
Like we always say, you can't teach experience and you can't replace it, either.
Great Communication and Support
In any outsourcing partnership, you're putting a lot of trust into the other company's hands. You're hoping that they uphold their promise and deliver exceptional files and keep you updated along the way.
With that said, the best CAD outsourced company is one that is very good at communicating and offering support throughout the project. If you have to send five emails and three voicemails before you get a call back, you're with the wrong guys.
At CAD/CAM Services, we always have plenty of people near the phone who are willing and able to help out. Whether you need a project update, a different file type sent over, or you find an issue, you can call us and we'll pick up.
A Wide Range of Services
Outsourcing companies come in a lot of different styles to help with various different businesses. An exceptionally good outsourced company will offer a wide range of services, acting as a one-stop shop for all of your engineering needs.
The best CAD outsourced company will offer 2D services, 3D services, engineering work, reverse engineering, 3D printing file creation, and conversion services.
This makes it easy to work together long-term. As your needs adapt and shift, the same company can help you.
A team of outsourced engineers reviews a set of manufacturing drawings to find any issues before sending them to the client.
Great Collaboration and Peer Reviewing
As you probably know, every team of engineers needs to be good at collaborating and checking each others' work. The same is true for any outsourced CAD company. If they aren't peer reviewing each drawing, then you're likely to get drawings that are missing information or wrong.
Every one of the millions of drawings that we've sent at CAD/CAM Services has gone through a peer-review process. Our designers catch small mistakes that could lead to lost time and money on your end, and we correct the issues before you ever see the drawing.
A Simple Quoting Process
A lot of outsourced engineering companies make it too difficult to get a quote. You might have to provide a ton of details and jump on the phone after going through hoops. Why does it have to be so hard to get a simple quote? At CAD/CAM Services, it doesn't have to be.
We pride ourselves in our ability to quickly and simply provide quotes for your projects. For simpler projects, you can get a quote back in no time at all.
High-Quality Work That's Affordable
Some companies think that quality and affordability are on opposite ends of the scale, but we disagree. At CAD/CAM Services, we're so good at what we do that we can afford to charge you a reasonable rate for all of our work.
The best part? You get CAD Perfect drawings delivered without overpaying a penny. We think everyone should have access to high-quality 2D and 3D CAD designs, so we make it our mission to make that possible.
They Should Offer Fast Turnarounds
The best CAD outsourced company will offer fast turnarounds for your projects. Part of why you might outsource in the first time is to save time, so it's important that the outsourced company has the right staff to promise quick turnarounds.
For instance, our team at CAD/CAM Services is made up of over 100 engineers and draftsmen that work on staggered shifts around the clock. This means an ability to work on your project 24/7 and deliver the fastest possible results.
In a lot of cases, we can deliver files to you within 24 hours of closing the contract together. With fast turnarounds like this, you can expedite every project you have.
Outsource with the Best at CAD/CAM Services
If you want the best outsourced CAD company, you should start with CAD/CAM Services. We've been operating for decades, and we're responsible for delivering millions of drawings to customers across the country.
With us, you can benefit from our strong and highly trained staff of engineers. We offer affordable pricing, unbelievable quality, and industry-leading turnarounds. We offer a massive range of services, and we're always a phone call away if you have a question or need an update.
Our team is here to be an extension of your team — we treat every project with the same level of professionalism and respect, so you can expect consistently good results from our team.
Conclusion
You just learned 8 different things to look for as you try to find the best CAD outsourced company for your needs. We also covered the fact that CAD/CAM Services shines in all 8 of these categories. To get the best results, consider reaching out to us and learning how we can help. Our engineers are always here to deliver high-quality results in no time. Get a free quote today.
This article was last Updated on September 5, 2023