Modern-day businesses are incredibly competitive. Most companies will go to extensive lengths just to gain a small advantage in their market share over their competitors. If you're looking to make more money and grow as a company, this guide was built for you.
Our experts at CAD/CAM Services will teach you how to use outsourcing to gain a larger market share. More specifically, we'll look at how outsourcing your CAD designs can help your company grow and surpass your competitors.
Why Your CAD Designs Matter
For any modern company, CAD designs are the money-makers. Companies create 2D manufacturing drawings in CAD so they can have their designs fabricated. You can also use 3D CAD files to make full building layouts, check the fitment of parts within an assembly, or do a full host of non-destructive simulated tests.
A well-made CAD design will also save you money each time it's made. The designer should design the part for manufacturing — a term that means the designer has a deep understanding of machining processes and creates CAD models specifically to be made via CNC milling machine, lathe, 3D printing, or so on.
Bad CAD models will miss information and have major design flaws. As a result, you'll waste a lot of time and money trying to get the part fabricated, and the part likely won't work in the end.
Outsourcing a CAD Design Is Easier Than You Think
This leads a lot of people to outsource their CAD designs. This is when you pay a third-party company like CAD/CAM Services to do all the design work for you in your CAD program of choice. You typically pay on a per-part or per-project basis, with no long-term commitments.
The outsourced company does the work and should deliver it in whatever CAD program you typically use.
This process can streamline each design and save you money, but it's also a lot easier than you think. With our company, at least, all you need to do is send us an email or call us with some base-level information. From there, we'll put together a comprehensive quote and get to work, once we agree on the terms.
If you're a returning client, then it might just take a few minutes between you giving us some information and us getting to work. From there, you can get drawings back in as little as 24 hours.
How Outsourcing Your CAD Designs Can Increase Your Market Share
Outsourcing is a great resource for any engineering department, but how does it change your market share? Let's review a few common ways that outsourcing your CAD designs can actually increase your company's total market share.
Handle Larger Projects
It's no secret that larger projects typically come with larger paydays. Unfortunately, they also require larger engineering teams and more manpower. The good news? Outsourcing your CAD designs allows you to tap into a much larger workforce with the snap of your fingers.
Just like that, you can have a dozen different engineers assigned to your project, working alongside your in-house engineers to tackle massive engineering projects.
We can assign as many engineers as you like, allowing you to take on bigger projects and make bigger profits.
Work on More Projects at Once
Another bottleneck in a typical engineering company is the amount of work you can handle at once. We've spoken to countless companies that have a backlog of work to the point where they need to reject incoming work. That's money left on the table that you lose, shrinking your market share.
Instead, you can outsource the work through CAD/CAM Services and juggle many more projects at the same time. Since you can work on more projects, you can take more work away from your competitors and further grow your market share.
It's amazing what a larger engineering team can achieve. The best part is that your engineering team is outsourced, meaning that the team can grow and shrink as your workload grows and shrinks. This ensures that you never overpay your staff.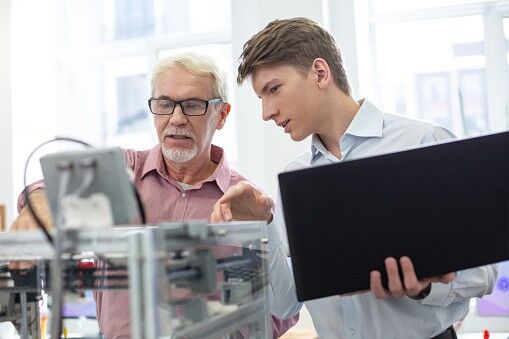 An expert-level outsourced engineer shows a more efficient way to correctly design an automotive part.
Leverage Industry Experts with Experience
Another huge benefit of outsourcing your work is that you can tap into highly experienced engineers without paying for senior-level engineering salaries. This reason alone is enough to drive companies to outsourcing, instead of hiring top talent directly.
With more experienced engineers assigned to your projects, you can take on highly complicated and industry-specific projects. Maybe this means a full overhaul of your process or upgrades that you couldn't handle before today. Our experts make every project look easy, and the results speak for themselves.
Free Up Your Budget
In most cases, you'll save a lot of money on each design that you pay our team to handle. Whether that's one 2D drawing or a thousand, complex 3D CAD models, you'll be saving money. The savings grow as you continue to work with us.
Why does that matter? Well, that's extra money in your pocket that you can allocate elsewhere. Maybe it goes into your marketing budget, so you can grow your brand. Maybe your R&D budget gets a healthy boost, allowing you to roll out new SKUs that your competitors couldn't dream of.
Regardless of where the money goes, the result is the same: you're in a better position to further grow your company and take a larger market share.
Get New Products to Market Sooner
Speaking of new SKUs, outsourcing CAD designs is a great way to streamline the time it takes for a new product to hit the market. Our team can help during every phase of the project: we can assist with the initial concept generation, preliminary design work, iterative designs, and full-production designs.
During every step, you're saving a significant amount of time. This is possible because our staff is highly trained, our shop is open 24/7 with engineers working around the clock, and we're wholly dedicated to your project. When you combine these factors, you're left with turnarounds that you wouldn't believe.
This might be the difference in hitting the shelves before your competitors, which will dramatically boost your market share.
Outsourcing your 3D CAD modeling is a great way to cut down on manufacturing costs and part turnaround times.
Cut Down Your Manufacturing Costs and Turnarounds
Let's talk about the manufacturing side of things. Whether you have an in-house machine shop, or you send drawings out for external fabrication, you'll reap the benefits of working with our experts at CAD/CAM Services.
We are experts when it comes to designing for manufacturing. We know all the best practices and have practical experience that allows us to optimize every design. What does that mean for you? Every single part we design will spend less time and money in the machine shop. In other words, our designs are optimized to make them as simple and affordable to fabricate without sacrificing the quality of the part.
This is a practice that the best designers in the world use (some of which work for us).
With faster and more affordable manufacturing, you have more time and money to devote to other parts of your business. It also means physically getting parts made and sent out sooner than your competitors might, yet another way to boost your market share.
Conclusion
With a larger market share, you can afford to make bigger decisions in your company. Through outsourcing, it's much easier to expand your business and grow your market share. At CAD/CAM Services, we offer full-scale CAD services that are typically faster and more affordable than your in-house engineers. We'll help you tackle bigger projects and juggle more work at the same time, allowing your company to grow. Get a free quote today.
This article was last Updated on September 5, 2023