What are you supposed to do if you have an NX-native file that you need to send to someone who only uses SolidWorks or has no CAD access at all? You'll need to convert the CAD file into another file type. This full process is simple once you have a lot of experience and different CAD programs to choose between, but it can be overwhelming to someone first trying.
In this guide, our experts will explain the best way to convert between CAD files. You'll learn specific reasons why you might convert, and exactly how to start converting today. Remember, you can outsource this project to experts if you want to save time and avoid some headaches.
What Is a CAD File Conversion?
A CAD file conversion is when you take one file type and save it as another. This is very common for companies that:
Receive CAD files from outside vendors

Need to do 3D printing

Need to share drawings with non-engineers

Want to get quotes from machine shops

Do any form of limited dimension drawing
When Might You Need a CAD File Conversion?
When it comes to CAD file conversions, there are plenty of scenarios that you might find yourself in.
Getting Quotes from Machine Shops
Here's a very common CAD file conversion example: after drawing your 3D model on Siemens NX and creating 2D manufacturing drawings, you want to get a quote from a machine shop for fabrication. A lot of machine shops have very limited CAD capabilities, so they won't be able to accept the .prt file that you have (which is the drawing file for NX).
Instead, you need to convert it to something more universal, like a .pdf. After converting from .prt to .pdf, you can send it to the shop and get a quote.
The same scenario might happen regardless of the original CAD program you used — you can convert from AutoCAD, Inventor, SolidWorks, NX, CATIA, or CREO.
Transferring to Another Engineering Team
Another common reason to convert between CAD files is if you're sharing your work with another team of engineers. These engineers might be in a different department within your company, or working for another company altogether.
In this case, you're likely going to share the file as a different CAD file type. If you started the drawing in SolidWorks, you might convert it to a more universal CAD file type, or you might transfer to a CREO file type, if that's what the other engineering department is using.
The reason for this 3D CAD conversion is because different CAD programs aren't good at opening non-native files. In other words, your SolidWorks program has no idea what to do with a file made for PTC CREO.
Sharing Your Files with Non-Engineers
It's very common for engineers to share their work with groups that aren't engineers, like a sales team, marketing department, or managers that are keeping up with new projects within the group.
When this happens, you'll have to assume that the person you're sending to doesn't have access to CAD. This is another scenario where you'll want to convert to a .pdf to ensure the recipient can open and view the drawing without any issues.
How to Convert Between CAD Files
Converting between CAD files is easier than you might think, as long as you have the right programs. In all of these steps, you'll want to start with your CAD program opened, and open the drawing that you want to convert into a different file type.
Converting from CAD to PDF
Let's start with the easiest option: converting from a CAD file to a PDF file. With your CAD file open, navigate to the "Export" function. This is typically in the File ribbon on the top of your screen, or it can be near the Save As button. The exact location for this command differs from program to program.
Once you hit Export, you'll want to choose your final file destination as PDF. After confirming, choose the folder on your computer that you want it to save to. Before closing out, open the PDF and make sure everything looks okay.
Converting from CAD to a Universal CAD File
If you want the recipient of your file to get a 3D model of your part that they can move around on their own CAD software, then a universal CAD file is a great way to go. These file types can be used in almost every CAD program, with a few limitations. What you'll be sharing is a bare-bones model of your part — all of the visual properties and material selections will not transfer with your model.
Examples of universal CAD files are .STP, .STEP, .X_T, .IGS, and .JT. Any of these file types can open in almost every CAD program without any issues.
Navigate to your "Export" function within your CAD program. After clicking that, you will eventually get a navigation pane that asks you where to save the file. When you get this, look for a drop-down that selects what file type your file will be saved as.
This drop-down should have a ton of different universal CAD options. In our experience, a .STEP or .X_T file is a great option, since they seem to send with the fewest errors. Simply select either of these CAD options, then save the file to export it from CAD to a universal CAD file type.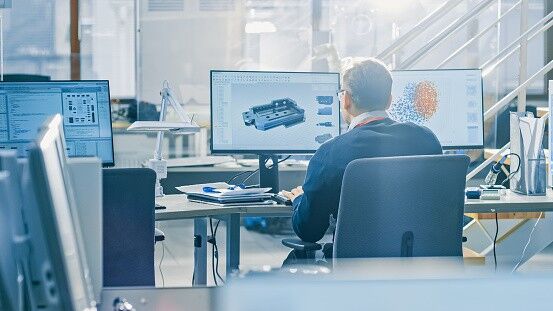 An outsourced engineer converts a SolidWorks file to a CREO file with ease.
Converting from CAD to Another CAD
If you have a CAD file that you want to convert to another CAD file, you'll need to have both programs downloaded on your computer, or borrow someone who has the destination CAD program on their computer.
Most CAD programs don't have a clean way to convert directly from one software file type to another. Instead, you'll need to start by exporting your file as a universal CAD file, like .STEP. Once you have it as a STEP, open the file in the destination CAD program (either on your computer or on a coworker's computer).
Once the universal CAD file is opened on the destination CAD software, simply click Save As, and choose the native CAD file type.
You Can Outsource This Tedious Work
Doing this work successfully requires full access to different CAD programs, and a deep understanding of how each CAD file type works. In reality, it takes a lot of trial and error before you can confidently do this work.
For that reason alone, a lot of companies choose to outsource this tedious work. If you have to convert a lot of CAD files into either PDFs, STLs, universal CAD files, or other CAD files, then you could use some help. Tackling this project on your own might take days of your time that you can't afford to throw away.
Allow our team at CAD/CAM Services to help with the conversion. We've converted countless files over our decades in business, and we can help you, too.
Conclusion
You just learned about different ways to convert between CAD files, and you also learned that this process can get tricky. If you need help, then reach out to our full-service outsourced engineering team at CAD/CAM Services. We can help with small or large projects alike, and we deliver high-quality results. Get a free quote today.
This article was last Updated on July 25, 2023